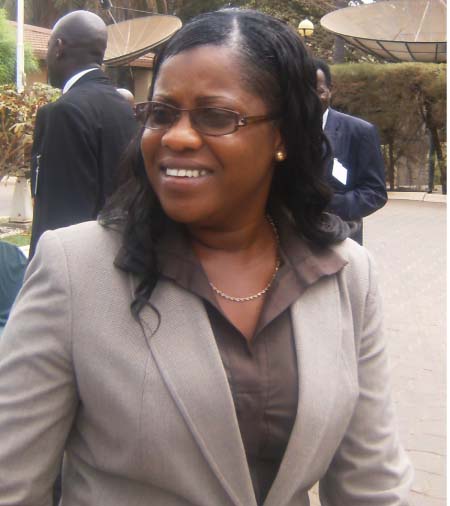 Fatou Mass Jobe-Njie, Minister of Tourism and Culture, recently launched the standing committee on beauty pageants and the development of the movies industry in The Gambia.
The event, attended by senior officials from the Ministry of Tourism and Culture, was held at the Ministry's Conference room.
In delivering her speech, Minister Fatou Mas Jobe-Njie said that in recent times the country has witnessed an unprecedented upsurge of beauty pageants of all sorts and nomenclature, organised by organisations or individuals whose reputation, credence and motive have remained baffling and questionable.
The essence and objective of these pageants have remained unclear and their services to the national interest have always been questioned, she added of the errant pageants activities.
In effect these pageants have eclipsed the spotlight on the Miss Gambia Beauty Pageant and caricature the very essence of the pageant.
Fatou Mas Jobe-Njie explained that the Ministry of Tourism and Culture has also observed that there have been a rise in the attempt to produce movies in the country, with some individuals or organizations even attempting to take charge of this young industry that is yet to develop and take its rightful place in the world of movies.
She added: "Some of the activities of these individuals or organizations have been rather nefarious. For instance, a particular foreign individual working then with some Gambian organizations albeit the naivety of the latter to this individual's credibility, collected scripts from Gambian schoolchildren at a fee of D50 per script with the intention of short-listing the scripts for eventual selection for movie production, only for him to disappear with the scripts and the money much to the dismay of the young people that submitted the scripts."
According to Hon. Jobe-Njie, the Tourism ministry recently noted an advert in the papers again by a foreigner calling for auditioning of movie actors or actresses and the establishment of various guilds for the movie industry in a unilateral way, albeit the fact that his organisation's memberships is largely Gambian.
"One individual has also even attempted to coin a name for a Gambian film factory when the country is yet to see a blossoming film or movie industry," the Tourism minister noted.
Read Other Articles In Article (Archive)