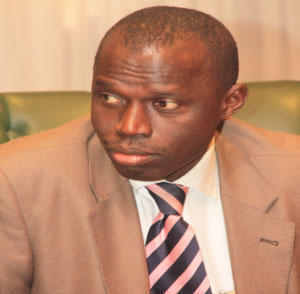 Abdou Kolley, Minister of Finance and Economic Affairs, has said total revenue and grants for 2016 is projected at 
Picture: Abdou Kolley, Minister of Finance and Economic Affairs, which represents an increment of 16 per cent over the 2015 figure of D11.197 billion.
The increment is mainly attributed to increased performance in Domestic Taxes such as VAT, as well as International Trade Taxes.
The Finance Minister made this statement yesterday while presenting the estimates of revenues, recurrent and development expenditures for the 2016 fiscal year before members of the National Assembly in Banjul.
He said the project grants are estimated to increase from D1.889 billion in 2015 to D4.396 billion in 2016.
However, he added, unlike 2015, no budget support is programmed for the 2016 budget.
Finance Minister Kolley further informed deputies that the total expenditure and net-lending is projected to increase from D11.700 billion in 2015 to D16.911 billion in 2016, representing an increase of 45 percent, the bulk of which is attributed to the recurrent budget.
Personnel expenditures are projected to increase from D2.031 billion in 2015 to D2.209 billion in 2016, he added.
For the debt interest payment, the Finance Minister said that is projected to consume around 43 per cent of Government revenues in 2016 compared to 35 per cent in 2015, increasing from D2.837 billion in 2015 to D3.720 billion in 2016, or 31 per cent.
The other current (Non-Interest) expenditure is estimated to increase by 64 per cent to D8.148 billion from D4.963 billion in 2015, he stated.
"This is to cater for the settlement of existing arrears, OMVG contributions and Government intention to further invest into the education sector, including availing more scholarships to students," he said.
The Finance Minister further indicated that the capital spending is estimated to increase by 43 per cent in 2016 from D1.990 billion to D2.843 billion, mainly as a result of the various road and infrastructure projects Government intends on implementing, as well as contributions towards ongoing project activities.
In terms of financing the deficit, he said, Net Domestic Borrowing (NDB) is projected to increase to D3.399 billion in 2016, which represents 8 per cent of GDP.
"Staying within this borrowing ceiling and working towards reducing, it is premised mainly on strict adherence to budget ceiling by all budget entities as well as structural reforms."
"I remain convinced that this budget will be a useful tool in our drive to achieve and sustain macroeconomic stability and the Government's primary objective of reducing poverty if we all recommit to strict fiscal discipline," he added. 
Read Other Articles In Article (Archive)