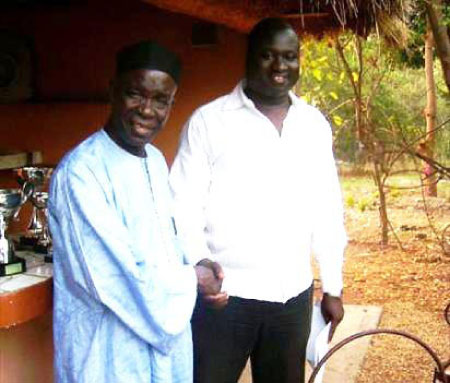 Ebrima Jawara, president of the Gambia Golf Association, has written a book titled: Overview of Development Projects in The Gambia under President Jammeh's Leadership 1994 to 2012.
The 238-page book, set to be launched on 16 February 2013, contains 15 chapters ranging from Vision 2020 to PAGE 2012-2015, infrastructural developments, education, health, PAMTP-The Breakthrough, trade and private sector development, security, good governance, human rights and the rule of law, diplomacy and international relations.
The book also looked at agriculture, natural resources and the environment, culture and tourism, youth and sport, presidential goodwill towards national development, accolades and quotations and correspondence.
"There are over 285 photographs, tables and illustrations, each giving its own account of the development projects in this book, bringing them to the reader."
"The book is an important source of reference on recent developments in The Gambia and will prove useful and most informative to both Gambians and Non-Gambians alike."
Ebrima Jawara is the project coordinator of the Central Projects Coordinating Unit of the Ministry of Agriculture, Republic of The Gambia.
He has held various positions in both public and private sector institutions.
He was educated at the Gambia Senior Secondary School, Lancing College and the University of Reading.
Ebrima worked on the publication of Kairaba, the autobiography of his father, former Gambian president Alh. Sir Dawda Kairaba Jawara.
His role was overseeing the business aspects of the book's publication as well editing.
He is married with children and is keen golfer. The book is designed and typeset by Transphere Printing Services.
Four former heads of state have been invited to grace the occasion and H.E. President Yahya AJJ Jammeh is the Chief Patron for the launch.
Read Other Articles In Article (Archive)