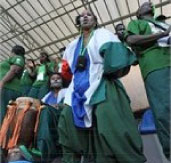 Tombong Saidy, chairman of Gambia For Gold, who is also the head of delegation for the Gambian fans in Azerbaijan, has strongly advised the fans to be law-abiding and disciplined during and after The Gambia's matches in the FIFA U-17 Women's football.
Mr Saidy was speaking on Tuesday on a bus specially hired to transport 50 Gambian fans to the Delga stadium in Baku where The Gambia had its second game against the USA.
The 50 fans, who were ferried by President Yahya Jammeh to cheer up the Scorpions in the Azerbaijan games, were told by Tombong to restrain from any manner of indiscipline and serve as good ambassadors for The Gambia.
"We should all be role models and remember that The Gambia is our homeland which is known for its respect," Mr Saidy told eagerly awaiting fans on the bus.
He further said His Excellency the president and all the Gambian people back home have great trust and confidence in us, which is why the president took out his own money to sponsor us to come to Azerbaijan and support the girls, and that nobody should therefore behave otherwise.
He further advised the fans to comport themselves as Gambians to leave good name in the World Cup since, according him, it is not our first time in a World Cup event.
Mr Saidy finally told the fans to beat the drums and support as normal but take any result that comes Gambia's way after the match.
Read Other Articles In Article (Archive)