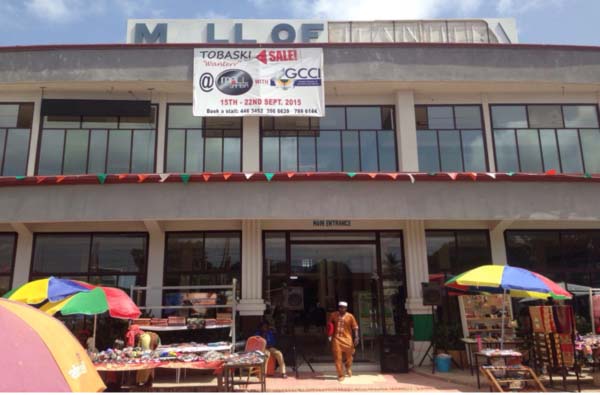 The Tobaski Sales Week launched last week by Mall of Gambia in collaboration with the Gambia Chamber of Commerce and Industry (GCCI) at The Gambia Mall, Tippa Garage in Bakoteh, is under way.
GCCI, the private sector apex body, decided to partner with Mall of Gambia, a newly-established outfit, to organize the event.
Lena Jobarteh, marketing and admin. assistant at GCCI, who spoke to The Point at the weekend,said this is the first time the mall and GCCI are teaming up to organizesuch an event to serve the general public with "quality and affordable goods."
It is not easy to organize such events, she said, adding that it is just a one-week sale, but has continued to attract a lot of people, who "are turning up every day" to participate in the event.
"Mall of Gambia seeks to promote local businesses, which is in line with the GCCI's aim of supporting sustainable enterprises," she said.
According to her, since the sales started they have been seeing increasing improvement in the turnout of people at most of the stalls, "which is a great improvement for a start, since this is the first time" both institutions are collaborating to organize such an event.
She appealed to the general public "to go and visit the mall to get quality and affordable goods at the various stalls" under the Tobaski Sales Week initiative.
''We have to support our fellow brothers and sisters in the market by patronizing them, buying their goods and making their business go well," Ms Jobarteh urged.
She also reminded the general public about GCCI's forthcoming Trade Fair Gambia International (TFGI), scheduled to commence on 19 December through 3 January 2015 at the Independence Stadium in Bakau.
A sales representative of KGI at the Tobaski sales, Talib Cham, said he is selling various types of clothes including men shirts, Abaya's and other casual dress for both men and women.
"People are somehow turning up as usual with other holiday sales we have participated in market places. Actually, we don't know much about here," he said."The place is confortable although during the day the sun and the heat is disturbing us; apart from that everything is fine."
He also urged fellow Gambians to visit the mall and patronize them by buying their goods. "It is really motivating and there are lots of amazing things; lots of women are here participating. We have tailoring shops, customer services and other food items and goods on sales at the mall," he said.
Another business woman called Mariama, who is selling cosmetics at the mall, said customers are visiting their sales spots, though a bit less than expected as most people are not aware of the Tobaski sales going on at the mall.
According to her, the place is conducive as water and electricity are always available.
"The only problem is that the sun disturbs us a lot; unless you buy these big umbrellas to cover yourself up. If the chamber and the mall should also give us some more back up or support in this area we will be really grateful," she said.
Muhammed Ceesay, another business participant at the Tobaski Sales Week at the Mall, said: "I am selling women products like soaps, shea butter and other stuff that married women need."
Ceesay said that although "business is going on fine gradually" as the Tobaski gets closer, they would really need more people to visit the mall to patronize them.
"May be because this is the first time this thing is being staged here, but people will learn to know more about it if only the sale goes on annually." he said.
Read Other Articles In Article (Archive)