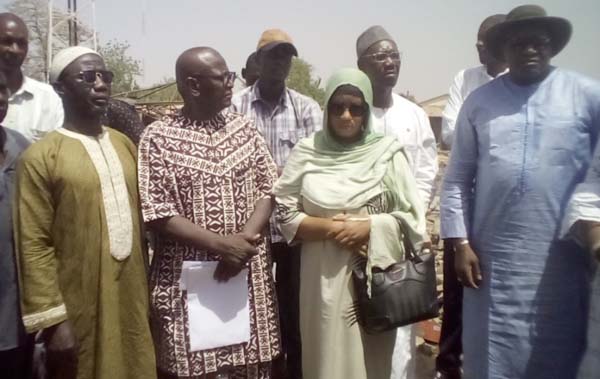 As a show of solidarity, the Association of Wood Re-exporters and Forest Users in The Gambia last Thursday presented a cheque of one hundred and fifty thousand dalasis to the Basse market inferno victims. The donation was handed over to the governor Upper River Region, Fanta Manneh Samateh for onward transmission to the affected victims.

At the presentation ceremony held in Basse, chairman of the association, Lamin Barrow expressed dismay over what befell the market blaze victims, saying the inferno had caused a negative impact on the lives of the affected victims.
Barrow explained that his association thought it befitting and as a show of solidarity to present the token, which he said, is part of the association's contribution toward national development.
He indicated that his association is not only here to engage in profit making, but also to contribute towards national development.
"We are here to show solidarity with the affected victims of Basse market disaster. We are very sorry for what had happened but let's have faith and patience. I also want to urge affected victims to exercise more patience as this is the will of God. He knows better why this happened."
Mr. Barrow also assured that his association would continue to support the affected victims until they settle down as it is not easy considering the magnitude of destruction.
For her part, Fanta Samateh Manneh, governor of Upper River Region, thanked the association for what she called a "timely and kind gesture." The donation, she went on, is not small as it is designed to support and ameliorate the lives of the affected victims.
She described the association as real partner in development and encouraged others to emulate the timber association.
In a separate but related development, Nassem Trading Company, a Mauritanian private company also donated five hundred thousand dalasis to the victims in Basse Market inferno.
Meanwhile, the Senegalese ambassador to The Gambia also visited to scene to show solidarity with the victims.
Read Other Articles In Article (Archive)