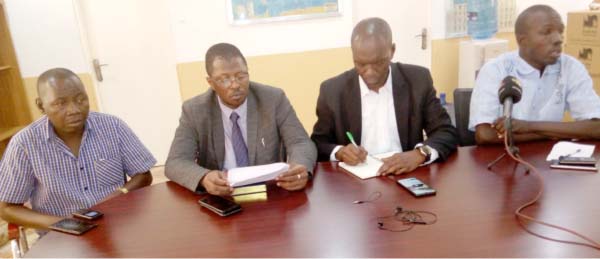 About 700 teachers from the Catholic Education Service have begun a sit-down strike as a total of D7, 000, 000 has been deducted from their salaries since September 2019.

The sit-down strike came when students were writing The Gambia Basic Education Certificate Examination (GABECE).
Officials say these teachers have been denied access to quality services that the Catholic Education Secretariat Credit Union (CESCU) and the Gambia Teachers Union Cooperative Credit Union (GTUCCU) provide; coupled with the fact that the failure to disburse funds has resulted in huge sums of interest being accrued by the ABASCUS (computer) System at the expense of the teachers.
"We frown over this practice and found it not only wrong but very illegal. In view of this, we urge the government and the Catholic Education Secretariat (CES) in particular, to do everything within their means to refund teachers all deductions from their legally earned emoluments forthwith and urge them to desist from such in the future," Essa Sowe, deputy secretary general of Gambia Teachers Union said.
Mr. Sowe who was speaking yesterday during a press conference at the Teachers Union Secretariat said "It is regrettable to note that such actions may have dire consequences on our education system but unfortunately, we had to resort to such actions having exhausted all local remedies."
"We have two cooperative credit unions within the teaching fraternity. I can tell you from September to date, close to eight million dalasis has been deducted from teachers of the CES purportedly due and meant for the loans and savings of these teachers in this credit unions which including their monthly union dues to the main union which is the GTU."
Sowe maintained that the government and the CES in particular must ensure that all monies deducted from these teachers' amount be refunded, and if they fail, the teachers will consider their disengagement in the classroom.
"Apparently, we were made to understand that due to some logistical issues, some amount at the level of the treasury which was meant to be lodged to the CESCU Account was not done due to some administration issues at the level of the bank.
He added: "We are interested in knowing where the balance is and how soon it will be paid because failure of paying or disbursing this money into the credit union accounts is denying the teachers access to quality services the credit union were providing. We are not only talking about the six million dalasis from CESCU and one million dalasis for GTUCCU but among others. These are their hard-earned money and it must be paid with immediate effect," he emphasised
Babucarr O. Joof, general manager of GTUCCU said teachers who are currently on industrial actions are only those for whom deductions have been effected in their salaries and not forwarded to the institutions where the money is supposed to go, thereby denying the authority.
The rest of the teaching fraternity is in solidarity with them but they are currently in active services. This is the first step and we're not threatening further action but we believe we will all come to terms and find a solution immediately.
Peter Mendy, general manager of CESCU described the incident as unfortunate and called on the authorities to solve the problem. He revealed that CES owes CESCU an amount of D6, 157, 210, 00.
"The teachers took it upon themselves and embarked on the strike. And up to today, they are on it. We made several efforts to arrest the situation but to no avail because last week we were at the Central Bank."
Read Other Articles In Article (Archive)