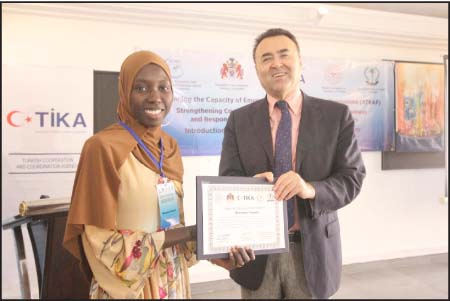 A five-day training on Disaster and Pre hospital Emergency Medicine for a group of Gambian doctors, nurses and paramedics ended on Saturday, November 30, 2019 at the Atlantic Hotel in Banjul. The training was organized by the Turkish Cooperation and Coordination Agency (TIKA) in partnership with the Ministries of Health of the Republic of Turkey, Sudan and The Gambia respectively, and the Statistical, Economical and Social Research and Training Centre for Islamic Countries (SESRIC).

The purpose of the training was to enhance the capacity of emergency medicine services in The Gambia. The training was within the scope of the Emergency Medicine Capacity Building Program, which was initiated by TIKA with the aim of strengthening coordination and capacity building on preparedness and response for health emergencies in OIC member states. The Gambia is the fifth country in Africa to benefit from such a training program.
The training which was in the form of theory and practice took five days starting from the 26th November, 2019 to the 30th November, 2019 and the trainers were medical doctors from Turkey and Sudan. During the training, very crucial topics in the area of pre hospital emergency medicine were covered such as Basic Life Support and Advanced Life Support.
At the end of the training, a closing ceremony was organised and certificates were awarded to the participants. The closing ceremony was graced by the Turkish Ambassador to the Gambia H.E. Ismail Sefa Yuceer, representatives from TIKA, representatives from the Ministries of Health of Turkey and Sudan, representatives from the Ministry of Health of The Gambia, senior officials from the Edward Francis Small Teaching Hospital and the director of The Gambia Red Cross Society.
Speaking at the closing ceremony, the Ambassador of the Republic of Turkey to The Gambia H.E. Ismail Sefa Yuccer congratulated the participants for successfully completing the training. He emphasised the importance of capacity building in the health sector and other sectors as well. He added that Turkey has always been supporting The Gambia in the area of capacity building through the training of military officers, police officers and many other sectors and offering scholarships to young Gambians in different fields of studies.
.On his part, the TIKA Country Representative Mr.Mehmet Akif Eyigun stated that TIKA places high priority on capacity building and that this training training will not be the last one in The Gambia. He highlighted the importance of the training and advised the trainees to make good use of the knowledge gained.
The acting director of the Edward Francis Small Teaching Hospital Dr. Charles Roberts deputising for the Hon. Minister of Health said that the training was very timely and he thanked TIKA for sponsoring such a very important training.

Read Other Articles In Article (Archive)