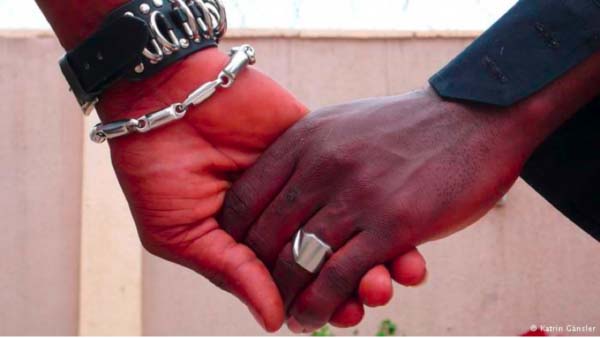 Three suspected homosexuals have been arrested by the National Intelligence Agency (NIA), according to a GRTS report yesterday.
An official of the agency told GRTS that "three men confessed that they are homosexuals."
They were arrested on suspicion of homosexual activities, following a security operation targeting people practising illegal acts in the country.
"We have engaged in a security operation whereby we go around in search of suspected individuals, and in the cause of the investigations we engaged those who are with us and they have confessed truly they have been engaged in this inhuman act," the NIA official said.
Other suspects are in hiding or have left the country, he added, further stating that the NIA is appealing to the general public, especially parents and landlords, to help to stamp out homosexuality.
The three were exposed on state TV with their faces covered.
It should be noted that if the suspects are found guilty, they could be jailed for life.
The law, which was enacted by the National Assembly in August 2014, was signed into law in October this year by President Jammeh.
The nationalities of the three suspects are yet to be revealed.
Read Other Articles In Article (Archive)