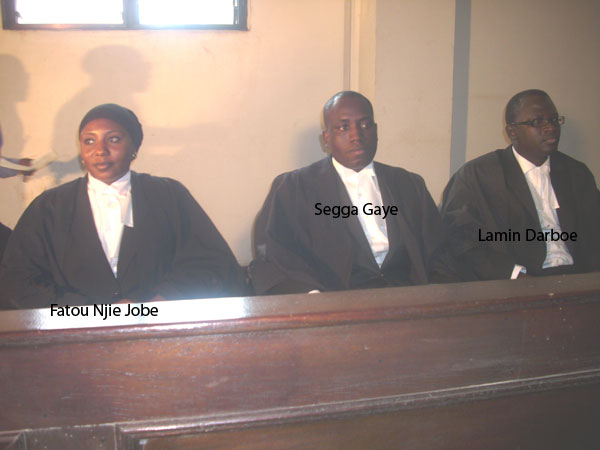 Three young Gambians namely, Lamin Darboe, a nephew of lawyer Ousainou Darboe, Segga Gaye, son of lawyer Antouman Gaye, and Fatou Njie John niece of lawyer Ousainou Darboe, took the prescribed oaths yesterday to join the Gambian bar.
At a ceremony held in a crowded courtroom in Banjul on Tuesday, Justice Gibou Janneh administered the oaths on behalf of the Chief Justice.
Speaking on the occasion, Justice Janneh advised "these three young people" coming to join the noble profession "to pay attention to your clients and the ethics of your profession".
Justice Janneh reminded the new lawyers that the legal profession "has been in existence for a very long time."
He said lawyers are to be honest and diligent, and that fortitude should be their guiding word in fighting for their clients. They must also bear in mind that they should show respect to their clients and the public, most especially their colleagues and seniors. "You should not be arrogant, you should not be complacent, but learn from your seniors' experience," Justice Janneh advised. 
Deputising for the President of the Gambia Bar Association, senior lawyer Pap Cheyassin Ousman Secka, the Secretary and Vice president of GBA, praised Segga Gaye for being the third member of lawyer Antouman Gaye's family to become lawyer.
"I think it is a great effort and deserves commendation, and I thank him for the effort," he said.
He further commended lawyer Darboe for the achievements of his niece and nephew, and welcomed them to the bar. "They are my niece and nephew too, and with all these achievements, I think it is now time to retire," he said.
Lawyer PCO Secka told them that lawyer Darboe and Gaye are more than qualified to teach them, and he urged the new lawyers to emulate their fathers.
Lawyer Fafa Mbai speaking at the ceremony also congratulated them, as well as their parents and friends for their achievement.
"Be brief, open clearly, show respect in every tribunal, clarity, accept word of thanks, prepare your first sentence or speech, among others," he advised.
He said he had served with Antouman Gaye in several courts and found him with a lot of good qualities, and I am also full of praise for lawyer Darboe.
Lawyer Segga Gaye in his vote of thanks said it was difficult, but they have finally made it. He thanked his family, his father and mum and praised his father for his support.
Lawyer Lamin Darboe thanked his uncle, Lawyer Darboe, for his relentless efforts and support. "He urged me to come back home, as I left the country since 1994, and today I am here".
Lawyer Fatou Njie John, in her speech, also thanked her parents and uncle lawyer Ousainou Darboe.
Lawyer Ousainou Darboe, in his reaction, said it was a great day. "I can only wish my niece and nephew success in their careers, and as Mr. Mbai has pointed out to maintain the standard".
"I look forward to their contribution to the development of the judiciary," he said.
Lawyer Antouman Gaye also thanked God for making it possible, and said it was a happy day for his family.
"Many people have spoken and given advice. I hope my son will take the advice. He thanked everyone for sparing time to attend this historic event".
Read Other Articles In Article (Archive)