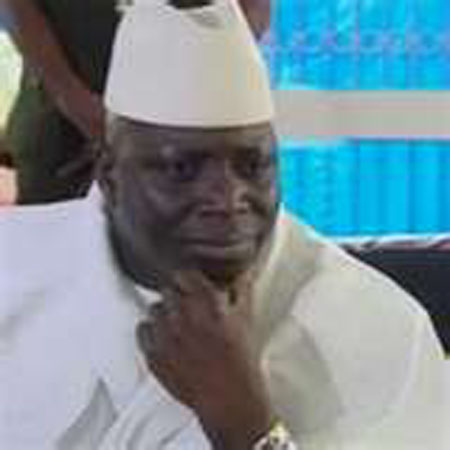 President Yayha Jammeh has said that those who play with God would pay a very high price.
Delivering his message on New Year's eve, President Jammeh emphasised thatthose who sponsor and advocate violence for regime change, should know that they are notonly working against and in violation of the human rights and legitimate interests of those affected, but also against the will of the Almighty Allah.
"This is why they will never succeed," he said, adding that they stand firm for the promotion of peace and security for humanity.
"We also vehemently condemn those who advocate and sponsor violence and mayhem, as instruments of regime change, which is also a heinous interest of democratically-constituted governments of nations and societies," he added.
He said the violence that "fake Muslim and fake Christian extremists" unleash in society demonstrates nothing more than blood-thirsty groups and organizations with a false-fake veneer or deep religious reverence sponsored by greedy and satanic powers bent on not only world domination, but amassing filthy riches at the expense of their rightful owners.
According to the President, the year 2014 has been a landmark in their efforts to progressively transform The Gambia into a modern economically developed country.
"The year marked the 20th Anniversary of the July 22nd Revolution and my proclamation of Vision 2016 for the attainment of food-self sufficiency," he noted.
"Let me take the opportunity to once again thank all Gambians and friends of The Gambia, particularly the heads of state of brotherly countries who participated in the celebrations," he said.
He further stated that some of the main challenges are a positive change of attitude, orientation and determination to set goals and objectives and work towards their achievements.
"This calls for a strong determination and a keen sense of purpose in whatever we are doing, and to avoid distraction and indulgence in destructive behaviours," he stated.
"Above all, we should all place our faith in Allah SWT for guidance and protection and for the ability to nurture the discipline and strength of character that our religion teaches us.
"I, therefore, urge all of us to renew our dedication to Allah and to walk on the path of good, honest, hard work, dignity and righteousness of Allah for not only our personal benefits but for those of our families and the entire Gambian nation."
"Let me take this opportunity before concluding. I would like to emphasise that in this New Year, we should renew and strengthen our love and care for children, as they are our special and precious gifts from the Almighty Allah."
"My government will continue to provide the enabling environment and necessary support through the enforcement of the Children's Act and the implementation of the Social Protection Policy," he said.
Read Other Articles In Article (Archive)