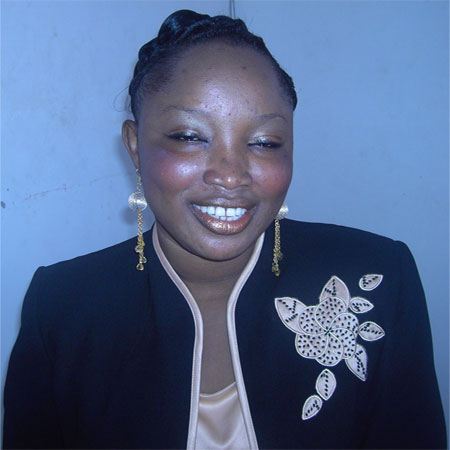 US Based Gambian Lecturer
She ranks among the finest US based Gambian lecturers that The Gambia and Africa in general has ever produced. Her capabilities, skills, high sense of discipline and strategic initiatives go beyond lecturing.
As a qualified and effective leader, Margaret Badjan (A Gambian by Nationality) would undoubtedly have a moving and inspiring success stories to recount since she shines at any corner of duty call.
Born in the year 1973 at Lamin village in Kombo North, Margaret exhibited early signs of quality leadership straight from school. Currently in the Gambia from the United States of America, Margaret now holds a Masters degree in organisational behaviour, leadership and development.  In addition to her enviable academic qualifications, she has also prior to that obtained a cadet degree in communication and a minor in English Language.
Margaret's undying passion for education coupled with her abundant fortitude landed her in the US some eleven years ago where she is now working for a mortgage company lecturing managers and supervisors on how to manage and facilitate the work range.
Having taught at her former school St. Peters Technical High School and worked for the State Department for Education some couple of months prior to her travel to the US, Margaret's passion of helping her fellow Gambians still exists. She is currently helping as a lecturer at Banutu Business College in his native village, Lamin.
The College, established by Dr. Michael Ba Banutu-Gomez and wife Shandra Banutu-Gomez to support the educational drive of His Excellency the President of the republic to make the Gambia one of the best nations in providing quality education in the world, has the vision of bringing quality education to the door steps of each and every Gambian.
She will no doubt be always remembered as one of the development oriented Gambians that this country has ever produced. Courageous Badjan assisted in many ways to infuse discipline and knowledge in many students here in the Gambia and US as a qualified and intelligent lecturer. She had a wide experience in all fields of endeavour not excluding politics.
Her deep insight of life and her determination to achieve gave her out as a potential for breathing new life into all the Departments where she worked for here in the Gambia before leaving for the United States.
Well, our very own Baboucarr Senghore and Abba Gibba caught up with Margaret Badjan at the Banutu Business College in Lamin and in this interview, she explains how life started for her. Please read on.
The Point- Who are you?
Margaret- I am Margaret Badjan but popularly known by my family members as Margo. That is how many people know me here in the Gambia. I left the Gambia for the United states about eleven years as a student. I have always been a student in the US and I recently in 2005 graduated for my masters in organisational behaviour, leadership and development.
Prior to that, I did a cadet degree in communications and I also have a minor in English Language. Today in the US I am a trainer. I work for a mortgage company where I have the opportunity to train managers and supervisors on how to manage and facilitate the work range.
Presently I am here in the Gambia to help one of my colleagues whom I know since when I was a little girl going to school and he is no other person than Dr. Michael Ba Banutu-Gomez, Proprietor of Banutu Business College. I have a firm believe in helping share the knowledge with my fellow Gambians and that is why I am here today.
I was born and raised in this neighbourhood (Lamin) and I believe it is a blessing and an honour for me to come back home and share my knowledge with the people of this country.
The Point- Who were your parents? 
Margaret- My father's name is Pierre Badjan and my mother's name is Binita Correa-Badjan. Actually I attended my high school at St. Peters High School and then did my A Levels. Upon graduation, I worked for the Department of State for Education for a short period in Berending, Niumi. From there, I was hired by my former school St Peters where I was teaching Literature and English Language but for a short period and then left the teaching field and go to St Mary's University in the US. Actually I started my University education here in the Gambia for one year before leaving for the US.
Read Other Articles In Article (Archive)