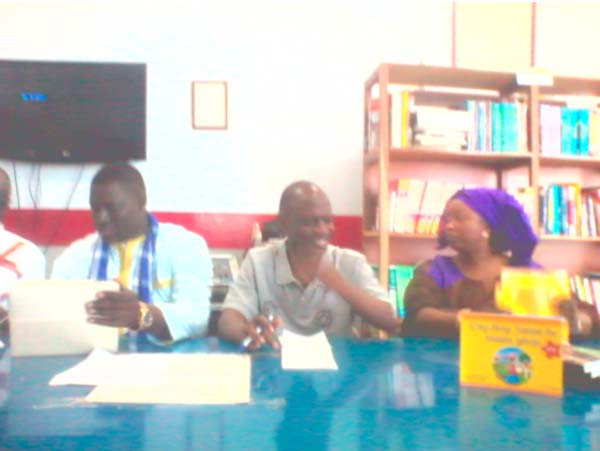 The Gambia Writers Association Friday celebrated World Book and Copyright Day, citing 23 April as being a symbolic date for world literature.
This year's celebration also witnessed the honouring of great African heroes such the late former South African President Nelson Mandela, among others.
As part of the celebration, Port Harcourt in Nigeria had been named as the 2014 World Book Capital on account of the quality of its program, focusing on youth and the impact it would have on improving Nigeria's culture of book reading, writing and publishing to improve literacy.
The commemoration held at the American Corner at the Comium Building along Kairaba Avenue, brought together members of the association, young Gambian writers, and private sectors representatives among others.
Speaking on the occasion, Abdou Jatta, chairperson of the young writers committee, said their goal was to encourage authors and artists and to ensure that more women and men benefit from literacy, and make books their most powerful ally for poverty eradication and peace building.
He said the event also called for nurturing the young Gambian writers to make a difference in the area of writing, and urged young people to have love for reading and writing, citing this as a tool of empowerment.
Jatta disclosed that it was on this date in 1616 that Cervantes, Shakespeare and Inca Garcilaso de la Vega all died, and it was a natural choice for UNESCO's General Conference held in Paris in 1995, to pay a world-wide tribute to books and authors on this date.
He also spoke of encouraging everyone, particularly youths to discover the pleasure of reading and gain a renewed respect for the irreplaceable contribution of those who have furthered the social and cultural progress of humanity.
The day was designated by UNESCO in over 100 countries all over the world, including The Gambia, he said, adding that the main aim of World Book and Copyright Day is to encourage children to explore the pleasure of books and reading, by providing them with the opportunity to have a book of their own.
In countries where physical books are hard to come by and illiteracy rates are high, mobile technology was being used to facilitate reading and improve literacy, according to Jatta.
Jatta further stated that mobile technology could advance literacy and learning in underserved communities around the world, adding that according to a new report published by UNESCO on the occasion of World Book and Copyright Day, hundreds of thousands of people currently use mobile technology as a portal to text.
He revealed that findings have shown that in countries where literacy rates are high and physical text was scarce, large numbers of people read full-length books and stories on rudimentary small screen devices.
He further noted that UNESCO's study of mobile reading was conducted in seven developing countries, including Ethiopia, Ghana, Nigeria, Pakistan, Uganda and Zimbabwe. Drawing on the analysis of over 4, 000 surveys and corresponding qualitative interviews, the study found that large numbers of people read stories to children from mobile phones.
However, the study was intended as a roadmap for governments, organizations and individuals who wish to use mobile technology to help spread reading and technology, Jatta continued.
It further recommends improving the diversity of mobile reading content to appeal to specific target groups such as parents and teachers, initiating outreach and training to help people transform mobile phones into portals to reading materials and lowering costs and technology barriers to mobile reading.
He said in the area of copyright and open access, UNESCO stands up for creativity, diversity and equal access to knowledge.
"We work across the board from the creative cities of literature network to promoting literacy and mobile learning and advancing open access to scientific knowledge and educational resources," he stated.
Read Other Articles In Article (Archive)