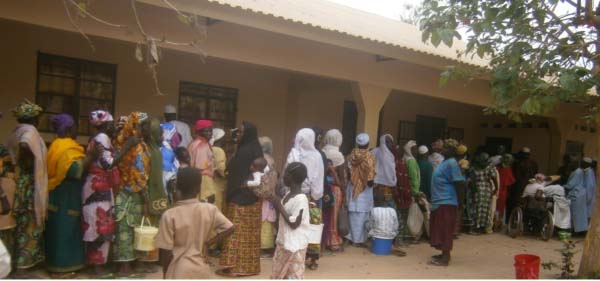 Hundreds of underprivileged men and women as well as youth on Thursday stormed the Pipeline Mosque premises as the Pipeline Mosque Foundation distributed 50 bags of rice and 50 bags of sugar worth over a D100,000 to them as part of their obligation in helping needy Muslims within the society during the Holy month of Ramadan.
The foundation also extended its hand to mosques within the satellite area of Pipeline.
Speaking to reporters shortly after the distribution, Alhaji A.B. Dandeh Njie, President of the foundation, said that every year their welfare committee mobilizes resources from donors and well-wishers who contribute tremendous amount of food items and other resources to enable them discharge their obligation as Muslims.
Ramadan is well-known in Islam that the needy are well-taken care of, he added, saying this is what they have been doing.
He thanked all their sponsors who "are able and willing to give generously".
He commended Mam Sait-Njie, Welfare Committee, for his selfless sacrifice in enabling them secure the required resources to do the distribution.
Ndenneh Senghore, Operation Manager at Takaful Insurance Gambia Limited who are one of the donors of the foundation, said that as an Islamic Insurance Company they feel it is their duty to the general public to collaborate with the foundation.
They are trying to show the public that the funds they have do not belong to them, which is why they are giving back, he stated.
Pipeline Mosque Imam, Muhammad Ebrima Njie, describes Ramadan as a great month, saying it is a month of mercy as well as of helping one another.
In a separate but similar development, the Foundation on the same day donated prayer mats and 6 boxes of over 100 Quranic books to Mile 2 Prison female wing and library.
In receiving the materials, Modou Jarju, Commissioner of Admin at the Gambia Prison Service, said they have been writing to various institutions with regard to donations and the way forward for the development of their department but the response of the foundation could not be compared to others.
He therefore on behalf of the Director General of Prisons and the entire prisons staff he expressed their heartfelt appreciation to the foundation for their rapid response to not only the development of inmates but to officers as well.
Lamin Sowe, Commissioner of Operations at Prisons, also thanked the foundation, saying: "It is good that when you appeal to people they respond positively."
As Muslims they are proud of the foundation, he remarked, saying that Muslims should emulate Pipeline Mosque Foundation.
Prison is synonymous with difficult environment, he observed, calling on people to understand that Mile 2 is a reformation centre and not a 'punishment' centre.
The foundation has now become their partners in development, he noted, while urging those who want to help to do so.
It is easy to handle someone who is God-fearing, he stated, saying that when one is educated "it also helps to prevent you from running into conflict with the law.
Government alone cannot do it all, he further said, calling on all to join hands "for the development of our beloved nation".
Ousman Ndow, second Vice President of the Foundation, said they were delighted to once again have the opportunity to support prisons.
The gesture is one of their very special areas of intervention, he added, while assuring them of their continued support not only for inmates but for all those involved in making sure the prisons operate efficiently.
He is also pleased that prisons has a library which inmates can use to improve themselves as well as get to know their religion better, while congratulating and urging them to continue to build the library.
"We at Pipeline mosque believes that knowledge is the only thing that can give you freedom," he highlighted, saying that when you have knowledge you know yourself better, and when you know yourself better you are able to appreciate others.
He thanked the Minister of Interior for his cooperation and for allowing them to be able to facilitate their relationship.
Read Other Articles In Article (Archive)