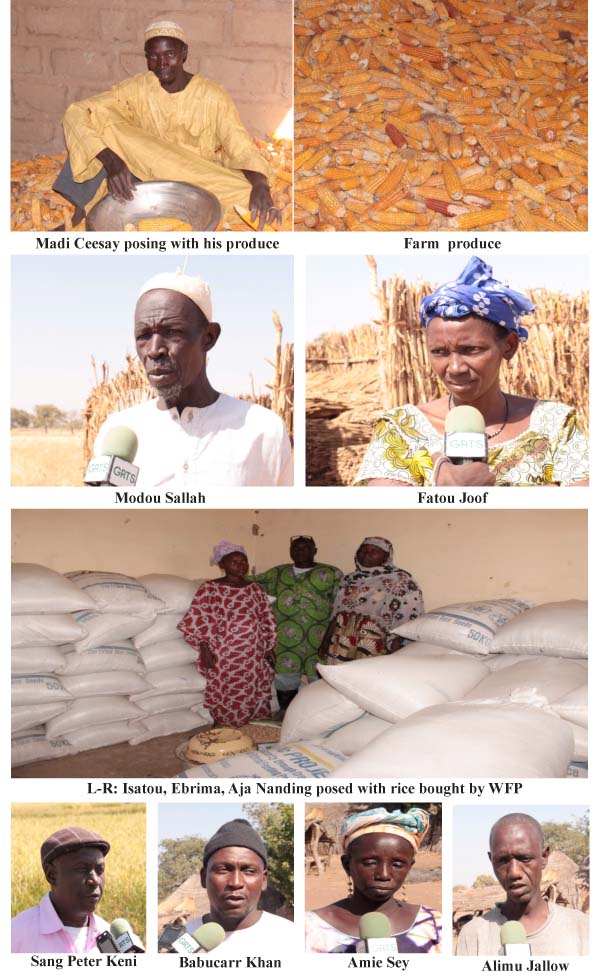 Bati Yongho – a maize growing community in Upper Saloum
Samba Ceesay, Alkalo of Bati Yongho and Madi Ceesay, a farmer from the same village, said the community has realised improved yields in 2014 and wellbeing thanks to the support provided through the project.
They noted that prior to the intervention, households do exhaust their produce before the next harvest season.
With the coming of the project, some households consumed their 2014 produce for up to 12 months.However, they lamented that the 2015 produce will be exhausted within 9 months due to reduced yields caused by heavy downpour.
Madi Ceesay thanked God, The Gambia government and donors for the project, saying the intervention is reducing hunger and poverty in the community.
Sam village – a millet growing community in Upper Saloum
Modou Sallah, Alkalo of Sam village, and Yaya Ndow, a farmer from the same village, said the intervention of the project has greatly improved food security and people's welfare within the community.
Mr Sallah explained that his household only exhausted their 2014 produce on 15 December 2015.
The community received 67 bags of fertilizers from the project in 2015 and they were able to buy extra 36 bags from the profit generated from the 2014 loan revolving scheme.
Fatou Joof, a female farmer, said part of the fertilizer was given to the women for use in their garden and that has greatly improved nutrition and income in the community.
Sainey Sallah, secretary to the village farmer group, also lauded the project for increasing income of farmers and reducing food insecurity.
Bakadagi Niani Maru - Rice Growers
Ebrima Conteh, secretary of Bakadagi Niani Maru Farmer Group, said the MDG1c project is "a very important project for The Gambia and Niani in particular".
He said: "It has increased yields and saved us from hunger.Prior to the intervention, our yields were very low and most farmers used to exhaust their produce within 3 months but now, some consume their produce for 12 months."
Conteh said he is feeding 37 people with the produce from his farm.He said this is possible thanks to the increased yields from his farms which is also attributed to the farm inputs, ploughing services and technical support received under the project.
He further noted that they are developing a 1-hectare vegetable garden to improve food and nutrition security using income generated from the sale of their produce.
Aja Nanding Jabbie, head of the women group, said they have a big household, and prior to the project feeding was a big problem.
She said: "We can't feed ourselves for six months before the coming of the project.But things have improved now.For instance, most households consumed their 2014 produce for more that 10 to 12 months. Our children are well fed now and our wellbeing has improved. I personally sold 10 bags of milled rice."
Mrs Jabbie, however, bemoaned the late distribution of inputs, salt intrusion in to their rice fields and lack of ploughing equipment as their major challenges.
She pointed out that they ploughed more than 1 hectare manually in 2015.
Isatou Sillah said the MDG1c intervention has "driven out poverty away from the village".She said her household of 45 people were struggling to survive before the coming of the project.
Sang Peter keni, field officer, Post-Harvest/Business, MDG1c Project, CRR north, said farmers in CRR north have experienced reduced yields in 2015 due to the heavy down pour and floods.
He explained that Bakadagi Niani Maru is the only community in the area that has good rice yield in 2015.
Mr Keni lamented that post-harvest losses remains a huge problem in the region.
The World Food Programme is in the process of buying 5.1tonnes of milled rice worth D122,400 from Bakadagi Niani Maru farmer organisation for the local school feeding programme.
Dingrai - millet growers in Niani district
Babucarr Khan, Amie Sey and Alimu Jallow, also testified that the MDG1c project has improved food security and wellbeing in the community.
They however said that yields have declined in 2015 compared to 2014.
Mr Khan explained that he bought a bull (draught animal) from the sale of part of his produce in 2014 and the left over was able to sustain his household of 30 for at least 7months.
Read Other Articles In Article (Archive)