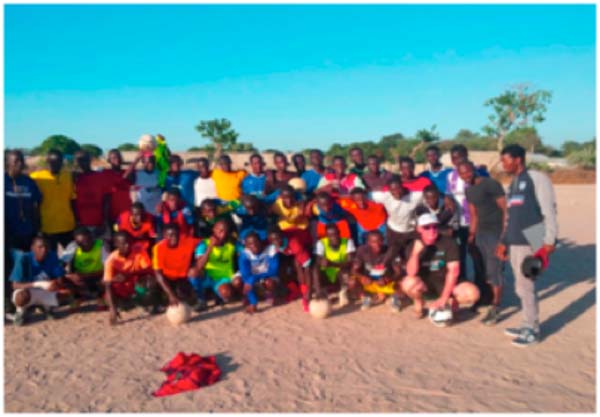 Rob Molyneux, a retired English professional footballer who plays his football career for Burley in the Barclay English premier league, has arrived in the country to visit Team Rhino Football Academy in Nema Kunku.
The veteran started Team Rhino Academy in Nema Kunku in 2013, and has since been sponsoring every activity of the team with sporting materials.
The team was able to qualify for the second division league last year.
Speaking to reporters, the former Burley player expressed satisfaction of the level of talent he has seen in the country so far, saying that all what the country needs is good harnessing and bringing young players to allow them grow up together, rather than every time bringing in new players and making unnecessary changes.
He emphasized that to have a good team, players need to know each other and put in consistency, saying that such move can be a great idea for Gambian football.
"A football team needs compactness and it should start from a young side, he went on, saying if the country is able to meet those subjects The Gambia will soon produce lots of professionals who will be playing in better leagues abroad and qualify the country in both AFCON and the World Cup.
The veteran was quick to back his points by giving as an example Wales, who managed to qualify to the European Championships this year.
"Since my retirement to date I have travelled to many countries around the world and because of my success in football I want to give back to people, especially those in needs," he said.
"My goal is to help those in needs through my project (Team Rhino soccer academy) so they can be successful and play in professional leagues to bring a massive impact in their life," he stated.
He said the Team Rhino project has lots of people in the UK, who are ready to support them.
Molyneux said Team Rhino is a soccer charity in the UK to support various projects including health and improving livelihood all over the world.
"We are fortunate in the UK with Pristine training services but skills levels are much better here in The Gambia than in the UK because players of very young age are very skillful, he pointed out.
He said the physical fitness condition of the players is not bad, adding that they only need to improve on their technical, tactical and positioning.
He remarked that his plan is to have a proper training facility in Nema Kunku for not only Team Rhino but for the entire community to use.
The quality of players in The Gambia are phenomenal and their skills level is very good, he said, noting that the mindset and vision of the players is what needs to be developed to go higher as he has seen so many potentials in Gambian football.
Read Other Articles In Article (Archive)