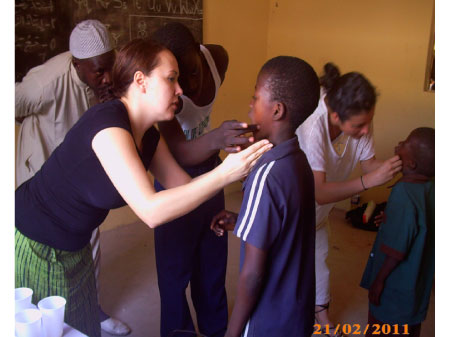 Members of Karmic Angels, an internationally registered charity in The Gambia, recently distributed 151 toothpaste and brushes to pupils of Brikama Madina Nursery School.
Speaking at the presentation ceremony of the dental items, Giannia Riveros, one of the members of Karmic Angels, says she has observed that many children have developed a tooth problem at very early age, which may be caused by too much use of sweets by children.
She called on parents to curtail the use by their children of sweets and candies, saying they should endeavour to take proper care of their children's teeth by using good toothpaste.
For his part, Pa Louis Gomez, director of Karmic Angels, said the gift came at a right time to help in providing dental care and precautionary advice for parents and their children, to forestall the increasing rate of tooth problem being experienced by children in the country. Curbing such a problem is not the responsibility of only the government. "The government cannot do it all," he said, calling on the parents to take good care of their children's health.
Mr Gomez also promised they would build a toilet and other facilities for the school in the community because pupils need to have all the relevant facilities within the school premises. He added that they would revisit the school with other surprised materials.
For her part, Natalia Finfando, who is also a donor, told the pupils they were inspired by the warm welcome they received from the Gambian people, adding: "This is why they also came up with this handsome donation."
According to Mrs Finfando, the Gambian people "have very good and nice teeth", but most of them did not take good care of their teeth and they eventually lose them.
She told the pupils they would continue to supply them with toothpaste and toothbrushes.         
Read Other Articles In Article (Archive)