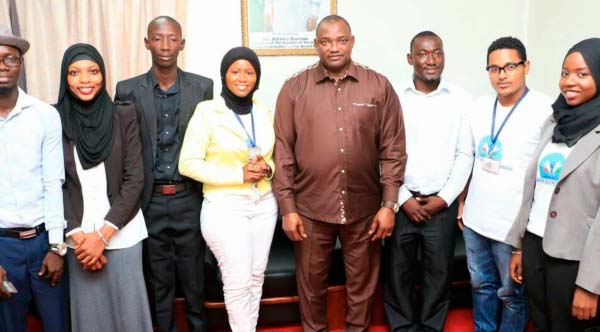 Gambia Teaching Trust (GTT) is to hold the maiden national teachers award night where the Teacher of the Year will go home with a prize of D1 million.

Ebrima Sonko, coordinator of GTT, told the Gambian leader, President Adama Barrow, that an 11-member committee, comprising veteran educationists, will be assigned the task of objectively vetting the award applications.
"Out of the total applications, 10 applicants will be nominated to compete for the final award," Mr Sonko said during a meeting with President Barrow on Monday at the State House in Fajara.
"The final award winner will represent The Gambia in Dubai for the global award."
Mr Sonko was part of an 8-man delegation from GTT at the presidency to introduce GTT to the president and inform and invite him as the chief patron to the maiden teachers award night which is tentatively scheduled for January 2018.
Sonko said the organisation was established in 2015 with the aim of celebrating the efforts of teachers in the country.
GTT, in partnership with the Gambia Teachers' Union, has created a trust fund to help needy teachers in times of financial difficulties.
Recently, GTT concluded a nationwide tour to inform schools of the award night and to market tickets for raffle draws the proceeds of which would be put in the trust fund.
Essa Njie, a member of GTT, said the organisation was formed with the aim of recognising, rewarding, appreciating and supporting the invaluable efforts of teachers in changing the lives of people and the society as a whole.
The GTT exists to complement the efforts of the government in advancing the education sector of the country, he said.
Njie said because of the importance the government attaches to the education sector, in the recent revised budget, the allocation to the education sector was not cut.
Fatou Jallow, also of GTT, extended an official invitation to President Barrow for him to grace the award night as the Chief Patron to hand over the main award to the winner.
Saikou Suwareh Jabai said the organisation wants the support of the government for the forthcoming award and subsequent ones to come.
President Barrow, for his part, welcomed the idea of GTT, citing the importance of teachers in society.
The Gambian leader said his government is committed to the transformation of the education sector despite the country's economic situation.
He expressed his delight with the idea of the national teachers award night, especially, for the fact that it is coming from young people.
Barrow, however, suggested for the D1million prize to be divided among three people: the winner, 1st and 2nd runners-up.
"This is just a suggestion subject to review by GTT," he said, pledging his government's full support towards the initiative.
He said he might attend the award in person "if time permits", otherwise, he will be represented.
Read Other Articles In Article (Archive)