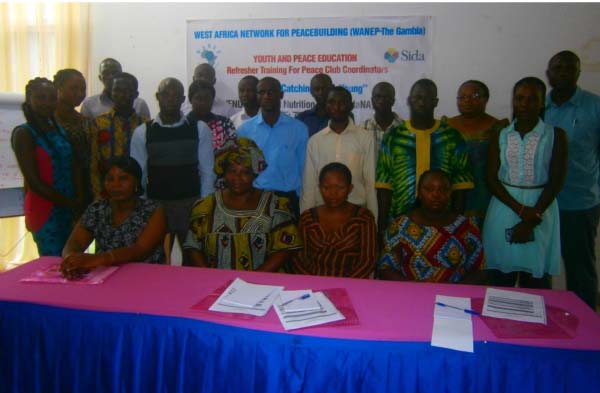 The West Africa Network for Peace Building (WANEP)-The Gambia Tuesday convened a daylong peace education refresher training for various teachers in different schools on peace conflict resolution at the NaNA conference hall.
Giving the objective of the training, Mariama Jammeh, Desk Officer for Peace Education, said the refresher training was to use peace education as a long-term preventive mechanism against violence.
It was also to create a peaceful learning environment in schools, to reduce tension among students in classrooms, to strengthen the relationships and improve interactions between and among students, she added.
The training would also help teachers and school administrations to have functional peace clubs in all the thirteen schools, she said.
According to her, peace education is one of the numerous ways WANEP–Gambia seeks to ensure "our livelihood in The Gambia is maintained" under peace and stable teachings.
She said peace education is the process of acquiring values and knowledge as well as developing attitudes, skills and behaviours that would help the individual to live in harmony with oneself, with others and with the natural environment.
She further noted that their peace education programmes are centred on conflict resolution, typically on the symptoms of conflicts, as well as training individuals on the need to resolve inter-personal disputes through techniques of mediation and negotiation.
In his welcoming statement, Francis D. Mendy, acting National Network Coordinator of WANEP-Gambia, spoke on the need for the refresher training to enable teacher coordinators in the different schools to undertake peace education activities in relation to the collective desire, to relieve the burden of school administrations in dealing with issues of conflicts among students.
Mr Mendy further stated that conflict is a natural phenomenon which happens in every place where there are human beings.
He said with training and capacity building, they learn to resolve their conflicts peacefully, adding that catching the young at a tender age on peace building issues is critical.
"We believe that if we succeed in changing the mindset of our young people they can be able to handle their differences peacefully without resulting into violence," Mr Mendy said.
He expressed hope that after the training, they would be in a better position to carry out their activities as expected in various schools, with the help of such institutions as WANEP-Gambia.
He said they could assist or give advice in helping young people to acquire skills, such as mediation techniques and dialogue, so they could build a peaceful Gambia.
Read Other Articles In Article (Archive)