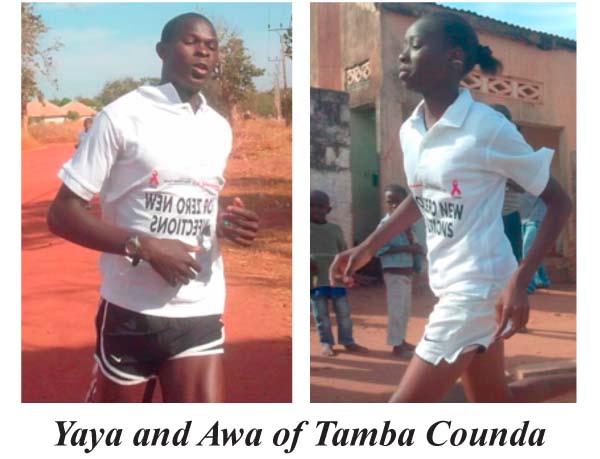 Tamba Counda athletes competing in the Safra marathon have both emerged winners of the 26th edition of the marathon occupying first positions in both the male and female categories.
Yaya Jallow emerged winner of the male marathon category while Awa Dampha took first in the female category.
Speaking to reporters shortly after the end of the race, which started at the Koba Kunda checkpoint and ended at the Nasir Ahmadiyya Senior Secondary School ground, Yaya Jallow expressed delight as he emerged winner of his category.
He said, being an experienced athlete, he capitalised on that and his strength at the final third of the race to beat his competitors from the other countries.
Yaya said the distance covered was fair but wished it was more than that so he could truly show what he was capable of doing.
Similarly, Awa Dampha from Tamba Counda, who took first position in the female category, as well expressed her joy about her performance.
She said their performance was as a result of good coaching and self determination.
Awa added that she trained for the marathon for only one week and could have even done better if she had prepared early enough.
She said she is determined to do more in her athletic career she started few years ago.
Francisco Assanatou Baldeh from Gabou, who took second position in the female category, said she is however pleased taking second position.
"Hopefully and with determination, I will keep up the momentum as I have been receiving encouragement from my mother, who always points out to me the importance of sport to human health," she said.
Assiatou Jallow of Boke, who is also a footballer, finished third in the female category and was grateful to God for giving her the strength to emerge third. "I also love athletics as it is a good arm of sport," she added.
Read Other Articles In Article (Archive)