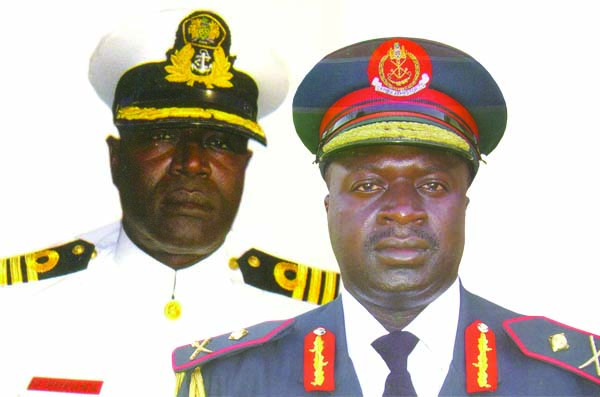 The Special Criminal Court of Justice Ikpala has set 23 May 2011 as the date the court is to deliver judgment in the treason trial involving Lt. General Lang Tombong Tamba and Admiral Sarjo Fofana.
This followed the address made by the prosecution and the reply made by the defence counsel.
Tamba and Fofana are being tried in connection with the 21 March 2006 aborted coup attempt, and the charges include conspiracy to commit treason, treason and concealment of treason.
Replying on points of law yesterday, the Director of Special Litigation, Daniel O. Kulo, referred the court to section 155 of the Evidence Act, which he said was cited by the defence counsel for the 1st accused.
The prosecutor adduced that the mere fact that PW1 ran to the 1st accused, Lang Tombong Tamba, to complain must not raise the presumption of the 1st accused having no knowledge about the coup.
He said that section 155 does not apply, in this case, adding that in human nature a man can run to his enemy, if he does not know that he is an enemy.
The defence counsel, Sheriff SM Tambedou, at that juncture raised an objection, stating that the prosecutor should confine himself to the points of law, but the defence counsel's objection was overruled.
D.O Kulo further stated that the defence stated that the court can rely on the circumstantial evidence, arguing that the court cannot rely on that authority on the grounds that that authority does not contain such a proviso.
He said counsel for the 2nd accused person urged the court not to rely on exhibit C.
He added that the defence counsel also submitted that exhibit C cannot be relied on, because it was made by an inducement, and he urged the court to ignore that authority cited by defence counsel.
D.O Kulo cited several legal authorities, including from the Gambia and Nigeria, to further strengthen his reply on points of law.
He urged the court to rely on exhibit C, and he also to referred the court to section 184 sub section (1) of the Evidence Act, stating that the 2nd accused person did not give any reason why the court should look for corroboration for the sworn evidence of an adult witness.
The case was subsequently adjourned till 23 May 2011 for judgment.
Read Other Articles In Article (Archive)