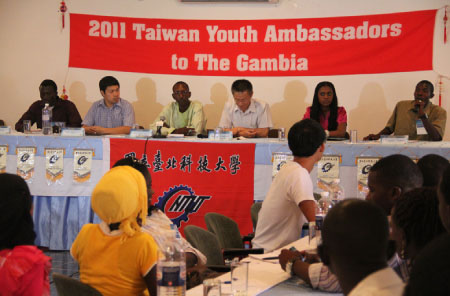 Eight youth member delegates from the Republic of China on Taiwan are in The Gambia on a two-week cultural exchange forum with their Gambia counterparts.
The programme officially commenced on 19 July 2011 at a ceremony held at the Baobab Holiday Resort, in Kerr Serign.
The annual event is aimed at exposing the youth to the cultural values of The Gambia as well as to strengthen the bilateral relations between the two countries.
Speaking at the ceremony, Harman Chiu, Charge de Affairs at the Taiwan Embassy, revealed that the gathering was a very significant event on the relations between The Gambia and Taiwan.
Both heads of states have reiterated that the People of The Gambia and Taiwan are brothers and sisters, he said.
"We have already developed that close relationship, especially in the area of Agriculture, education among others and even at international level," said the Charge de Affairs.
He emphasised the need for the relationship to go from strength to strength
"Great importance is attached to this networking so that the future leaders of both countries (the youth) can better prepare for themselves," he said, while calling on both countries' youth to make use of the opportunity and explore each other's culture to know one another better.
Speaking on behalf of the minister of Youth and Sport, Musa Mbye, deputy permanent secretary (DPS) of Youth and Sports, noted that such initiative should be supported to further ensure the relationship between the two countries moves from strength to strength.
"There is no doubt that as future leaders, we should ensure the relations of both countries to grow," said the DPS. Mr Mbye also urged all the youth ambassadors to give their best during the two-week exchange programme.
Speaking earlier on the occasion, Professor Chao-Cheng Wu, representative of the Taiwanese Youth Ambassador from the National Taipei University of Technology, thanked the Ministries of Foreign Affairs and Higher Education for supporting the programme.
According to him, since 2004 the Gambian students have been receiving training and studies in computing and engineering from the Taipei university.
Recently 25 students graduated from the university, he noted, adding that there is a strong connection between the university and the Gambian people.  Professor Chao-Cheng Wu also added that the Gambia students in Taiwan help them a lot in facilitating the exchange programme, saying that "without their support it would not have been easy to do this activity".
He said there would be various classes during the two weeks and expressed hope that their Gambian counterparts will also be exposed to the Taiwanese culture.
Other speakers on the occasion included Alkali Dibba, president of the National Union of Gambian Students, and a representative from the Ministry of Foreign Affairs, Fatou Kinteh Jobe.
Read Other Articles In Article (Archive)