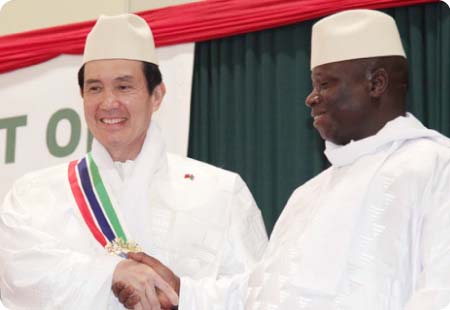 ndif] StartFragment
Vice Foreign Affairs Minister Joseph Shih announced the severance of diplomatic ties with The Gambia with immediate effect, at a news conference.
Shih said the Republic of China (Taiwan) Embassy in Banjul will be shut down, its technical mission withdrawn and all bilateral cooperative programs terminated.
Gambian President Yahya Jammeh's office issued a statement Nov. 15, saying that his country was ending diplomatic relations with Taiwan.
The ROC government sent a delegation of officials to Banjul over the weekend to conduct "more direct and frank" communication with The Gambia.
The delegation included Richard R. C. Shih, director of the Ministry of Foreign Affairs' (MOFA's) Department of Protocol, and Taiwan ICDF Secretary-General Tao Wen-lung, according to David Wang, director-general of the MOFA's Department of West Asian and African Affairs.
Shih and Tao met with senior Gambian officials, including the Gambian vice president and the Presidential Office secretary-general late Sunday, Wang said at Monday's news conference.
After listening to Shih and Tao's briefings on the major purpose of their visit, the Gambian vice president promised to convey the information to Jammeh, Wang said.
The Gambian vice president, however, told the ROC delegation that in her country, the president's decision was final, Wang said.
"While we treasured our relationship with The Gambia, we must uphold our national dignity and basic principles in offering aid to other countries," Wang said, referring to the government's decision to sever diplomatic ties with The Gambia and terminate aid and bilateral cooperative programs.
Asked whether The Gambia had requested aid that did not comply with Taiwan's requirements or principles, Wang said only Jammeh can answer the question of why he severed ties with Taiwan at this point.
Wang said Jammeh mentioned in a letter to President Ma Ying-jeou that he felt the ROC government no longer attached great importance to relations with his country.
He further said the mission of the special delegation to The Gambia was to get a better understanding of Jammeh's statement.
In terms of diplomatic protocol, the statement should have been issued by the Gambian Foreign Ministry instead of Jammeh's office, Wang said.
Meanwhile, the MOFA issued a formal statement Monday on Taiwan formal decision to end diplomatic ties with The Gambia, saying the government will maintain its "flexible diplomacy" policy despite the latest diplomatic setback.
Under the policy, Taiwan has sought a tacit diplomatic truce with China and opportunities to participate in international organizations and events.
The MOFA said the ROC treasured its relationship with The Gambia and maintained a spirit of brotherhood.
The Gambia's abrupt decision to cut bilateral diplomatic ties was regrettable, the ministry said in its statement.
The ROC government will continue to make friends with countries that treat it equitably and with reciprocity, and to seek proper status in the international community and fulfill its international obligations, the MOFA said.
Source: Agencies
Read Other Articles In Article (Archive)