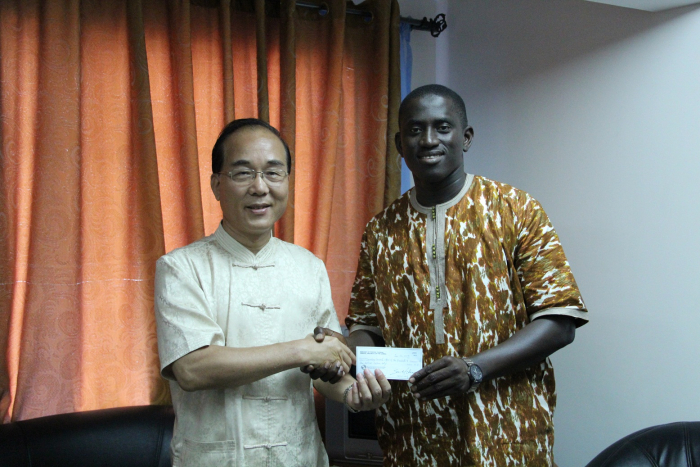 The Government of the republic of China on Taiwan (ROC) through its embassy in Banjul yesterday donated staggering one million US dollars ($1,000,000) to The Gambia Government.
The cheque was presented by the Taiwanese Ambassador to The Gambia, H.E. Samuel Chen, and was received on behalf of the government by the newly appointed Secretary General and Head of the Civil Service and Minister for Presidential Affairs, Hon. Momodou Sabally, at State House in Banjul.
In presenting the cheque, Ambassador Chen said the money is meant to support the president's newly established Youth Development Fund.
According to Ambassador Chen, the project was initiated by President Jammeh and he personally unveiled it at his 48th birthday banquet last week.
He acknowledges the strong bilateral cooperation between The Gambia and Taiwan.
Ambassador Chen also said the gesture reflects Taiwan's commitment to complementing the development efforts of The Gambia.
"The purpose of this donation is to complement the efforts of the Gambia Government in their quest to addressing youth unemployment by providing resources in the form of soft loans for setting up medium and small enterprises by qualified youth and youth groups across the country," he said.
Ambassador Chen added that the funds will empower youth in agriculture, fisheries, construction, trade, craftsmanship, commerce among others and will contribute greatly to national development.
"ROC is delighted to see that the implementation of the Youth Development Fund can run very smoothly with sound management," said Ambassador Chen.
In receiving the cheque, Minister Sabally applauded the Taiwanese government for the gesture.
Sabally, who was speaking at his first formal engagement in the new capacity, said he was delighted to receive the cheque on behalf of H.E. President Jammeh and the Government of The Gambia.
"With this development, ROC has taken yet another bold step in bolstering ties with The Gambia," he said.The gesture, he noted, would complement government's efforts in empowering young people of the country.
According to him, youth development since 1994 remains a top priority for the Jammeh administration.
He said he himself is a benefactor of President Jammeh's youth empowerment initiatives being a product of the University of The Gambia.
"My President perceives Taiwan as a true and genuine partner of The Gambia," Sabally remarked.
Read Other Articles In Article (Archive)