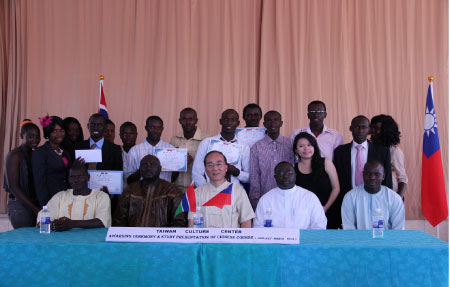 The Taiwan Cultural Centre over the weekend graduated another batch of students, who have successfully completed a three-month Chinese basic language course.
Addressing the graduating students at a ceremony held at Baha'i Centre in Kanifing, the Taiwanese Ambassador His Excellency, Samuel Chen congratulated the students for their achievement.
Ambassador Chen said the purpose of the centre was, among other things, to enable Gambians learn not only the Chinese language but cultures of Taiwan and The Gambia.
The Taiwanese diplomat said his government will continue to assist the people at the grassroots level and government of The Gambia in order to realise the development blueprint of Vision 2020.
He informed the students that it would become easier to integrate in a different cultural society, if they know other peoples' culture.
"Another reason for establishing the culture centre is that in the near future those of you who may be lucky to have Taiwanese scholarship would have already known the basic Chinese language and that would help you while in Taiwan," he said.
He said the 30 best students would proceed to the intermediate class level for another three months course, as he urged others interested in the Chinese language to immediately collect the application form from the centre in order to enroll for the coming intake.
For his part, the Minister for Higher Education Dr. Momodou Tangara who also graduated at the ceremony thanked the Taiwanese Ambassador for establishing the cultural centre in the country.
He urged all and sundry to take the Chinese language course seriously, as according to him, it is the future global language, due largely to its influence.
Dr. Tangara informed the graduating students that ignorant brings prejudice which in turn brings conflicts and hatred. He said "that's why we should all learn one another's language and culture to avoid misconceptions."
In addressing the students, the Permanent Secretary, Mr. Sulayman Njie, who deputized for the Foreign Minister also thanked the Taiwanese government and ambassador for the continuous help they are rendering to the government.
"The Taiwanese government continues to be our partner and assisted in so many vital socio-economic development priorities of the government, especially in health, agriculture, education and infrastructure," he said.
The Permanent Secretary cited the recent donation of $760,000 for educational purposes, which he said, speaks volume for itself and then advised Gambians to grab the opportunity.
Read Other Articles In Article (Archive)