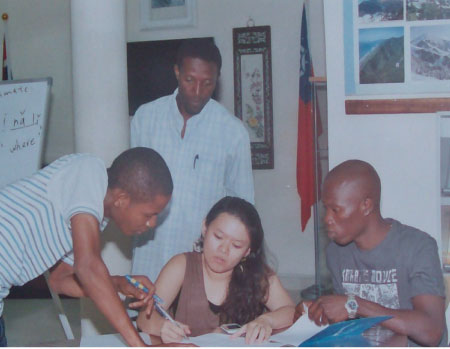 Since the establishment of the Taiwan Culture Centre in The Gambia a year ago, the centre is attracting more Gambians, who have shown interest in learning the Chinese language.
According to the course lecturer, Ms. Carring, a 22-year-old Taiwanese volunteer lecturer, the first batch of students have completed their three months basic Chinese course in November 2012, attracting more than 50 students.
The courses, which she said, are being attended by people from all walks of live comprised both Gambians and non-Gambians.
She further stated that she is also lecturing about 30 students from the UTG on basic Chinese Language.
Ms. Carring disclosed that her students include waiters, chefs, nurses, businessmen, teachers, security officers, journalists and senior government officials, including a minister.
"Chinese mandarin language is spoken by 20% of world population and daily single spoken language worldwide," said Ms Carring.
The purpose of teaching people in The Gambia on basic and intermediate Chinese language is to expose them to know more about the Chinese culture and tradition and the influence it has on the global trade.
Ms. Carring lauded the Gambian leader, President Yahya Jammeh for his relentless efforts at UN and other international fora, where he continued to seek support for Taiwan.
The final exam for both basic and intermediate students would be in the form of oral, by the end of March 2013. She disclosed the best 20 students from the basic Chinese classes will be promoted to the intermediate level.
Read Other Articles In Article (Archive)