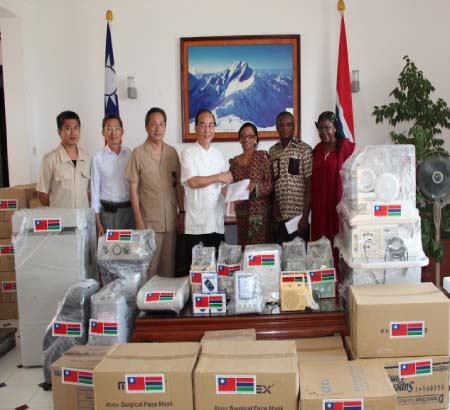 The ambassador of the Republic of China (Taiwan) to The Gambia, Samuel Chen, together with Ambassador Tao, Wen-lung, Secretary General of the Taiwan International Cooperation and Development Fund (ICDF) yesterday presided over the handing-over ceremony of second-hand health equipment to the Ministry of Health and Social Welfare.
The donated equipment, which included infant incubators, obstetric diagnostic table, sphygmomanometers, nebulizers, ultraviolet ray sterilizers and many more, will be distributed to the Jammeh Foundation for Peace Hospital, Serrekunda Hospital and Basse Health Center.
In his opening remarks, Samuel Chen acknowledged the strong bilateral cooperation between The Gambia and the ROC, and that the donation reflected Taiwan's commitment to the development of The Gambia, especially the health sector.
He mentioned that the purpose of this donation is to help the Gambian government in its efforts to reduce maternal and infant mortality rate in the country.
Receiving the donation on behalf of the Ministry of Health and Social Welfare, the Permanent Secretary, Matti Buoy, expressed her sincere appreciation to the ROC (Taiwan) ICDF through the embassy for their continued support to The Gambia.
Mrs. Buoy said "maternal and infant mortality is one of the key concerns of the government in order to release maximum development, and this donation will definitely contribute towards the reduction of the maternal and infant mortality rate in The Gambia.The Gambia and the ROC (Taiwan) share very strong bilateral relations, and I wish it will continue to flourish", she added.
Ambassador Tao, Wen-lung noted the importance of maternal health, and that the program established in Basse and the Upper River Region (URR) has been successful so far.
"I hope it will continue for future expansion to other regions". ICDF has also sent a volunteer for public health to stay in The Gambia for two years and help in both the health and basic education sectors", he announced.
Also present was the Deputy Permanent Secretary, Dawda Ceesay, and the Director of Health Services.
After thanking the government of the ROC (Taiwan), they mentioned that the donation from the ROC (Taiwan) ICDF could not have come at a better time.
According to them, this is just one of the many contributions of the ROC (Taiwan) towards the development of the health sector in The Gambia.
They added that, recently, a brand new state-of-the-art MRI machine was donated to the Edward Francis Small Teaching Hospital (EFSTH), and their staff is being sent to Taiwan for training. 
Read Other Articles In Article (Archive)