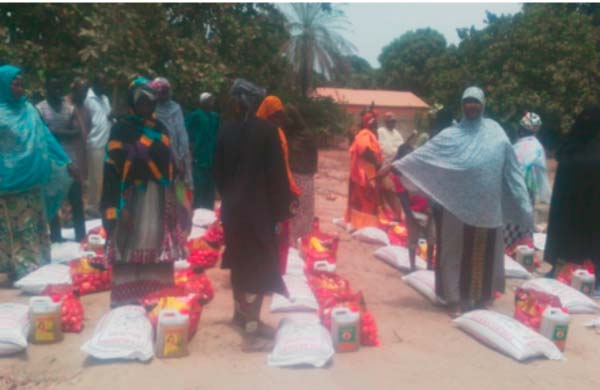 Taiba Charity Centre, a charitable foundation operating in The Gambia recently distributed 30 bags of 25kg of rice, 30 gallons of 5 litres oil, and 15 bags of onions to communities of New Yundum and its satellite villages.

The items distributed worth D96, 000, was part of Ramadan gifts to the Muslim Ummah.
The charitable foundation, according to officials, was established in 2010 with the ultimate aim of helping the poor and needy people with a view to enable them sustain their lives and livelihood.
The distribution ceremony held at its office in New Yundum was attended by the beneficiary communities and a cross section of the public.
Each of the 30 beneficiary families went home with 1 bag of 25kg of rice, a gallon of 5 litre oil and a half bag of onion.
Speaking at the presentation ceremony, the Director of Taiba Foundation, Abubacarr Camara, dwelled on the significance of the forum, adding that his organisation was committed in assisting needy people.
Mr Camara added that they are involved into lots of activities ranging from agriculture, education, health and religious interventions among others.
He recalled that they also made a similar presentation where 11 people each was given D1,000, all geared towards supporting their families in enhancing their living condition.
For his part, the Chief Executive Officers of Taiba Charity Centre, Haruna Muhammed, spoke at length on the importance of the gesture, noting that helping the poor and needy people are among their top development aspirations in The Gambia.
"We are working closely with the government in ensuring that we complement their effort in the quest for national development. We will continue our effort in supporting the less privileged people in our society," he stated.
The Public Relations Officer (PRO) of the Foundation, Sulayman Jammeh, said the foundation has being supporting needy people in the country since 2010 in order to sustain their livelihood.
They have engaged in building mosques for communities, supporting women in microfinance, supporting women in their gardening, digging local hand pumps and boreholes, building schools, hospitals, among others.
PRO Jammeh explained that part of their target was to support the physically challenged in communities.
"We felt these are people who cannot do much for themselves; thus the need to support them to improve their living condition," Jammeh remarked.
Sulayman Bojang, Lamin SaidyKhan, the coordinator of Taiba charity and Amie Bojang on behalf of the beneficiary communities, all spoke at length on the significance of the gesture, especially in the holy month of Ramadan.
Read Other Articles In Article (Archive)