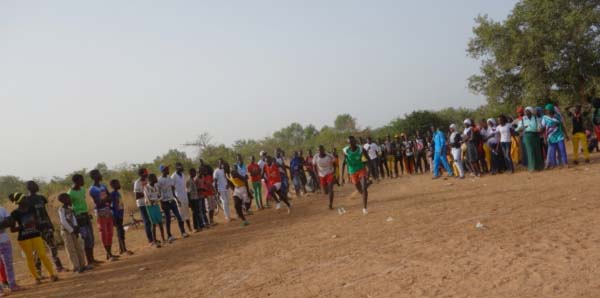 Tahir Ahmadiyya Senior Secondary School and Pakalinding Upper Basic School in Mansakonko, Lower River Region, at the weekend held a joint annual inter-house athletics competition at the Tahir's playground in Mansakonko.
Attended by thousands of spectators, including security heads, students and locals from the surrounding communities, the well-organised event saw Ali Kunda emerge as winners for Tahir Senior School with 352 points.
Ousman Kunda came second with 334 points, Abubacarr Kunda Kunda took third with 290 points, and Omar Kunda finished fourth and bottom of the log with 250 points.
In the Pakalinding Upper Basic School races, Gamtel emerged first position with 324 points, GPA came second with 304 points, Trust Bank Limited came third with 266 points, and Africell finished fourth place with 256 points.
The reason for organizing the inter-house sport much earlier, according to the schools' authorities, is to provide the athletes with enough time to prepare for the upcoming zonal heats and subsequent national athletic championship organised by the Secondary School Sports Association.
Mr Abubacarr Nyabally, principal of Tahir Senior Secondary School, said: "This year's joint inter-house has been very entertaining and we have seen talents that can represent both schools in the upcoming zonal and national athletic championship."
The idea to have a joint inter-house sport with their neighbours, Pakailinding Upper Basic School, is to strengthen the already existing cordial relationship and unity between the bordered schools in Mansakonko.
"We feel that Pakalinding has always been the main feeder school to Tahir Senior School as most of their students come to Tahir from the upper basic school. We started this joint inter-house last year and we intend to make it an annual event henceforth."
Thanking the thousands that turned up to grace the inter-house sport, Mr Nyabally reaffirmed his commitment to the promotion and development of sport in school to unearth hidden talents that could be assets to the nation.
According to the action-oriented principal, Tahir Senior School is fully ready to give a good and respectable performance at the inter-school athletic championship.
Momodou Musa Sabally, board member of Tahir Senior Secondary School, said he was "quite impressed" with the talents at the inter-house. He urged the athletes to keep training hard in order to represent the school.
He commended the principal of Tahir Senior School, Mr Nyabally, for transforming the school in all aspects since assuming the mantle of leadership.
Musa A. Badgie, principal of Pakalinding Upper Basic School, said he was "quite honoured" to have his school joining the senior school to have a joint inter-house competition. "This joint initiative motivates athletes of both schools and we are happy," he said.
The inter-house was preceded with spectacular performances by both the newly formed Choir and Scout Band of Tahir Senior School in Mansakonko.
Also for the first time, the winning athletes of the senior school were awarded medals by the school principal. 
Read Other Articles In Article (Archive)