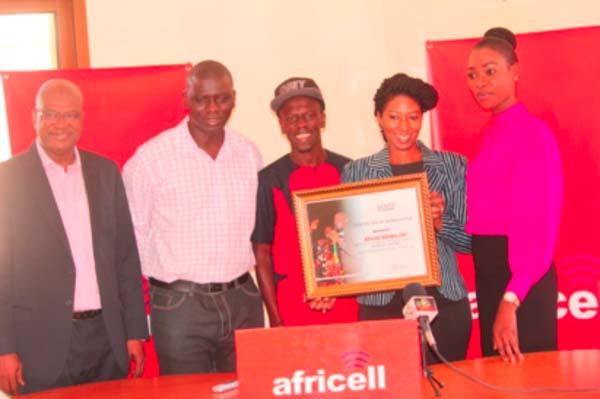 (Issue, Friday 27 March 2015)
T-SmallzSuso of Katato Entertainment and one of Gambia's finest artistes on Wednesday 25th March 2015 presented a certificate of appreciation to Africell for their immense support and contribution toward his double EP launching, as well as support over the years.
In receiving the award, Musa Sise, Africell Media Consultant, said Africell is always in support of everything geared toward national development.
Mr Sise stated that the certificate was 'well received', adding that T-Smallz is one of several artistes who have been knocking their doors for support over the years, and as a company they have been assisting numerous artistes as part of their social corporate social responsibility.
Africell is here for everybody, he added, furher stating that they do not discriminate anybody.
They want a brand that represents them, he went on, and that T-Smallz is one of several artistes that has come forward to appreciate what they do for them.
It does not take much to say thank you, he concluded.
T-SmallzSuso, for his part, said Africell has been there for him all these years and most recently contributed to the success for his double EP launching and therefore, thanked them.
Africell's support contributed to his career, and he is grateful for it, he added.
"They keep doing things for me, but I never did anything for them, which is why I came up with this certificate of appreciation".
He called on upcoming artistes to be determined and focused in their careers in order for corporate bodies to support them.
"If you take up something as a career you need to take all angles professionally".
He sees Gambian music being big in five years to come, T-SmallzSuso, continued.
The music industry here is not up to that level compared to other countries, he admitted, but was quick to add that "we are growing".
He called on everyone to keep supporting Gambian artistes, as they can bring big things to our country.
Read Other Articles In Article (Archive)