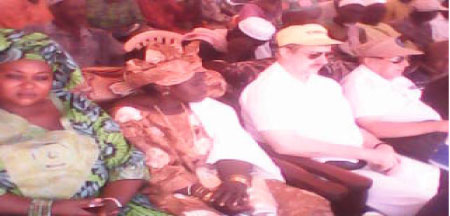 Lars Eric Anderson, a Swedish national, has vowed to bring more support to families of Gambians to complement and boost government efforts at achieving sustainable development, particularly in poverty alleviation and other socio-economic ventures.
Mr Anderson made this statement in an interview with this reporter yesterday in Sinchu Baliya village, Kombo north, West Coast Region.
According to him, he first came to The Gambia in 1983 as a tourist and since then he has been visiting The Gambia.
He said he happened to meet some Gambian friends in the person of Yusupha Sonko, a native of Sinchu Baliya in 1983 and later met one Mariama Jallow, a native of the said village, who was seriously ill with leg problems while doctors have even made recommendation for amputation of her two legs; that was the time Lars came to her aid and took her to Sweden where she was treated successfully and later got married to a Swedish fellow in Sweden.
To him, this is what brought about the relationship between Mariama and Lars and as a result they came to The Gambia annually to support Gambian families in need.
Asked how did he raise funds to support the activities and women initiated projects in The Gambia, Mr Anderson revealed that he is a vegetable famer in Sweden who cultivates large vast of land area and the proceeds from the farm is more than enough for his family use and thus see the need to support Gambian women.
According to him, the support will continue even though he is aging. He was however quick to say that mechanisms will be put in place to ensure continuity of the project with or without him.
For his part, Yusupha Sonko, a resident of Sinchu Baliya, hailed Lars for his unflinching support to Gambian women.
Mr Sonko, a retired police officer, also said Lars is a real friend of Gambians. According to him, he met with this Swedish friend in 1983 while he was in active service and since then he has been very supportive of Gambian people.
Highlighting some of the interventions of Lars, the retired police said Lars has donated ambulances to Basse, Bansang and Gambisara and has funded a garden in Kasiwa village in Niumi Jokadou (100mx100) square with water, sponsored 250 students and of late supported the establishment of Sinchu Baliya Health Post.
Lars, who continues to support the country's education sector, has also given 48 sewing machines to the local communities, while annually brings in 40-foot container full of equipment and second-hand clothes to give to local people.
Read Other Articles In Article (Archive)