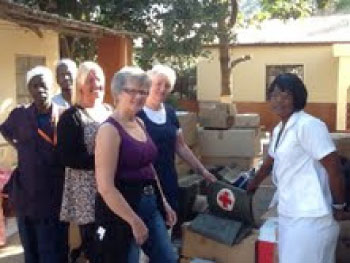 A well-known Swedish organisation, called Slattmissionenhjalpandehand recently donated medical items to Sukuta Health Centre in Kombo North and Chamen in Nianija, Central River Region.
In a similar engagement, they also donated Sanchaba Sulay Jobe Lower Basic School with football jerseys, at a ceremony held at Sanchaba Sulay Jobe.
The donated items included beds, boxes of needles, bandages, toys for delivery mothers and baby cloths.
Slattmissionenhjalpandehand, a charitable organisation based in Sweden, aims to complement the effort of the Gambian government in the areas of education and health, said Ingrid Stride, on behalf her colleagues at the presentation ceremonies.
Madam Strid said the organisation has been supporting the two health centres for the last couple of years.
"We are very pleased to donate these items to the two health centres and the school as a contribution to the socio-economic development of the country in the education and health sectors," she said, on behalf of her colleagues.
Mr. Lamin K. Darboe, Game Master Sanchaba Sulay Jobe Lower Basic School, on behalf of the school administration, thanked Slattmissionenhjalpandehand for the largesse. As he puts it, the donation would go a long way towards helping the sports department of the school.
While lauding the donors, he called on others to emulate the charitable organisation.
Madam Rohey Jammeh, the officer-in- charge of Sukuta Health Centre expressed gratitude to Slattmissionenhjalpandehand, noting that the donated items are of good use to the health centre.
She said the group is complementing the efforts of the government, which she said, is a commendable cause.
Musa Cham, Slattmissionenhjalpandehand Gambian counterpart also expressed appreciation to the charitable organisation for the support they have been rendering to Gambians.
He expressed optimism that the relationship between the charitable organisation and the local communities will grow from strength to strength.
Read Other Articles In Article (Archive)