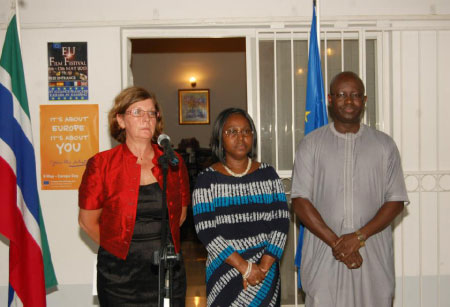 On May 9th 2013 in Banjul, the Europe Day was celebrated with a reception addressed by the EU Delegation Charge d' Affairs and Gambian Minister of Foreign Affairs, Madam Agnes Guillaud and Susan Waffa-Ogoo, respectively.
Speaking at the occasion, Madam Guillaud said 9th May was designated Europe Day in recognition of a declaration made by the then-French Foreign Minister Robert Schuman on that day 62 years ago.
According to her, the declaration has laid the foundation for European integration, by binding European countries together to ensure a war-free continent.
European integration has come a long way since then. Today, the European Union brings together over 500 million people from 27 countries (soon 28), speaking 23 Languages, she said.
The European Union is by far the largest donor in The Gambia, either via the European Development Fund or via the EU Member States, she disclosed.
She stressed that over the past four decades, the government of The Gambia has been EU's implementing partner in executing EU funded projects and programmes locally, which she added, have enhanced the socio-economic development of The Gambia.
She highlighted areas, such as transport and infrastructure, food security, education, non-state actors, governance, economic growth and poverty reduction, where he added, significant support have been made.
"Our cooperation with the Government of The Gambia facilitated the rehabilitation of 270km of roads, of which Soma-Basse Road and the Trans Gambia Highway were finished in the course of last year, representing a major improvement in trade and transportation in The Gambia, while works on a new stretch of road (Basse-Wellingara) have started in 2013."
She disclosed that more important projects and programmes are also ready to start, such as the Millennium Development Goals Initiative that aims to improve agricultural production and provide school feeding for Gambian children; Global Climate Change Alliance preventing coastal erosion; the drainage and sanitation programme catering for the needs of the most deprived.
She further disclosed that 10 million Euros will be devoted to the improvement of feeder roads in priority areas.
For her part, Mrs.Susan Waffa-Ogoo, the Minister of Foreign Affairs, felicitated the EU delegation on the occasion of Europe Day.
She expressed her admiration with the achievements registered by the EU since its formation and then hailed EU for its continued support to The Gambia's development.
"These interventions are testaments of the fruitful cooperation between The Gambia and EU. I am therefore confident that through constant interaction that recognises our social, religious and cultural differences, The Gambia-EU relationship will continue to be productive," she concluded.
Read Other Articles In Article (Archive)