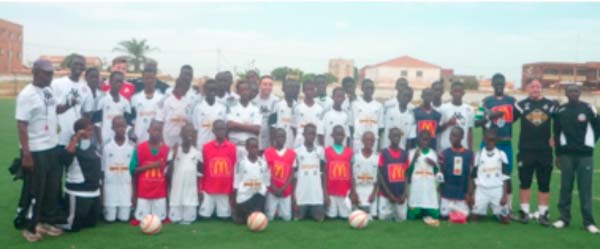 Two coaches from Swansea City, a premiership club (Roy Thomas and Jamie Thomas), yesterday concluded a two-day training season organised in collaboration with Afia Banjul Football Academy Foundation, the Gambia at the St. Augustine's football field in Banjul.
Speaking to The Point, Roy Thomas, head of coach and coach developer at Swansea City, said they were in The Gambia to pass on information to players and coaches who are more important when it comes to the game.
He pointed out that the academy needs to start technical work at the very early age (6) because it needs specific attention, adding that the academy needs to also conduct more sessions in the week.
He stated that, he has seen a lot of enthusiasm and a lot of players wanting to develop and improve.
Coach Thomas, who is also responsible for overseeing development at Swansea City, said: "We already have Gambian International Modou Barrow playing for us and we are very proud of him."
He noted that he has seen a few good players in the academy who if given the opportunity can become professional footballers.
He said if possible next year they would like to bring more coaches to work with the players and also bring those that will work with the coaches (maybe on a coaching seminar).
He said he had learned to be patient and not to expect too much too soon from the training sessions.
On behalf of Swansea City Football Club he thanked Gambian people for giving them the opportunity to spread the Swansea City way, saying they hope to return next year.
Lamin Jabateh, Team Manager of Afia Banjul Football Academy Foundation, the Gambia, described having the coaches from Swansea City as not just important for them but the country at large as "they were here to train our youths who will be the country's future national team players".
He stated: "We need future footballers and cannot have them without have proper training and opportunities."
He recalled that the academy started training at the beach side with fifteen players who were without proper materials, but was quick to add that the number of players is increasing yearly.
He said they have strong coaches who are technically and tactically aware of the game, adding that they do not only train the kids but also inculcate in them discipline.
He remarked that their vision is to build stronger links with Swansea City Football Club and the football world at large.
He further said they want to see Gambian kids play in professional leagues in future, and therefore thanked Swansea City management, Afia Academy president, Isabel and everyone who contributed to making the visit possible.
Isabel and Craig Goodman, president Afia Banjul Football Academy, for their part, said: "This was the first time a premiership football club is coming out to The Gambia and it was really good for the children to have coaches from another country."
They added that they hope they were able to teach the kids some new skills and also take back some skills to Swansea City.
They noted that they will like to continue fund-raising and bringing over football boots, kits, materials and hopefully get back Swansea City in future, saying they also aim to expand the academies across the country in the near future.
Tijan Youlla, Academy head coach, said the training session will motivate the kids, adding that the coaches from Swansea were happy.
He said they have learned new things. "We want to see these kids in Swansea in future," he said, adding: "We like the kids and want to develop Gambian football.
"I look forward to seeing this happen every year but for us to also go and visit them and show them that we can do something."
Read Other Articles In Article (Archive)