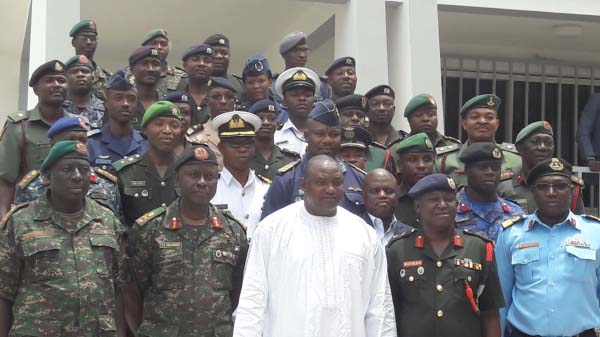 Deputy Chief of Defence Staff (DCDS), Major General Yankuba Drammeh, last week introduced the Syndicate of Class 30 from Ghana Armed Forces Command and Staff College to His Excellency, President Adama Barrow at his office.

Deputy CDS Drammeh said the students are working on their research project in The Gambia as part of a programme on the theme: "Emerging Case Studies in Africa".
The students will specifically look at the case of The Gambia. He said it is part of the higher learning system in the military to prepare them to handle command.
For his part, deputy command and team leader, Brigadier General Boimah Augustine Komla, informed the Gambian leader that the students are working on their master's programme, and he expects the research to shed light on security challenges and lessons to be drawn from the Gambian case study.
The Gambian Head of State also the Commander-in-Chief of the Armed Forces and Minister of Defence, Adama Barrow, expressed delight in receiving the group as "the military family" and emphasised the importance of togetherness.
President Barrow pointed out that a government cannot be run without security.
He observed that the Military has gone a long way to producing high ranking officials, thus instilling professionalism in their work.
The Gambia benefited from such professionalism during the impasse, he recalled, saying the ECOWAS intervention in The Gambia was undertaken because it was perceived as an African problem that needed an African solution.
President Barrow encouraged the students to work with professionalism as this will bring Africa closer.
On behalf of his colleagues, Major Daniel Otobara thanked President Barrow and expressed pride in meeting him.
He said the visit would leave a lasting memory in them and the programme would further enhance the bilateral and multilateral relations among Africans.
The visiting students were from Namibia, Zambia, Tanzania, Rwanda, Togo, Ghana and The Gambia.
They comprised 22 personnel among them 16 staff students and 6 instructors. Among the students were 2 females from Ghana and Namibia.
Source: Office of The President
Read Other Articles In Article (Archive)