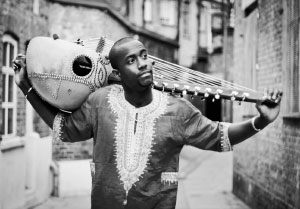 Sura Susso, UK-based Gambian kora player, has said his debut album "Sila Kang" (Journey), released in the summer of 2011, is successful.
"The album is an impressive first outing, a beautiful and quietly experimental album brimming over with imagination and delivered with virtuosic authority that announces a startling new talent of delightful recital," Susso said of 'Sila Kang'.
On his website, Suso said he has performed in more than 500 shows in over 30 countries around the world.
"I have always been proud of promoting traditional music from my cultural roots in The Gambia, and absorbing new varieties into my own style," he said on 25 April 2013.
Suso, who performed alongside the great violinist Maximilian Baille in Berlin, Germany, said: "We have artfully mixed the complementary sounds of the kora and the violin."
Our collaboration with Askew and Avis led to the recording of the Kora Song Radio Album, which was met with great appreciation from the musical world, he said.
At Glastonbury Festival in 2009, Suso and her sister, vocalist Binta Susso, took part in a unique project that combined the theme of football with music and dance originating from Botswana.
"This took place at the Africa Express Event where the two of us were invited to perform alongside the legendary artiste Baaba Maal," said Suso, who was born in a family of 'griots' hereditary musicians who play traditional music at certain events in the African society.
Suso said he draws inspiration from his father Mamudou Susso, a renowned kora player in The Gambia and was a member of the popular band Ifang Bondi.
He left for Bristol at 17 and began to tour with his brother's band The Seckou Keita Quintet. This tour took the band all around the world and gave Susso both exposure and the taste of being part of a professional band.
Since his arrival in the UK, he has performed as a solo artiste and collaborated with other artistes.
Sir X's  Hip-hop  'Five Star General' or 'The Rap Justice'
His love for Hip-hop is unquestionable that most people often obsessively regard him as the 'Five Star General' or 'The Rap Justice'.
Born Batch Samba Ngum and widely known by his moniker 'Sir X' or simply 'X' – he grew up in the cosmopolitan town of Bundung in the heart of Serrekunda.
Growing up he sees himself as a humble 'talibe' (student) of life and a hip hop lover.
He fell in love with the art of rapping when he was in his seventh grade. A couple of years later, the passion compelled him to start rocking free shows with freestyle flows and demos recorded on a tape cassette.
In 2005, he recorded his solo single at Bull Doff Records titled "Warrior's Breath", which served as the beginning of his game as an emcee with a cause.
Since then, he has been working on different projects both locally and internationally. In 2009, he released a video titled "Childhood Memories" – this video was premiered on the National Television, GRTS.
Prior to his solo single, the Five Star General is known to be among the Bundung-based underground rap group called "Nubian Soljaz" – with his long time friend Big Ams of Fippu Squad.
During those most active days of Nubian Soljaz, they recorded hot singles like "Hot Deal", followed by another single titled "Trust" which earned them street credibility and respect in the hip hop circle.
In 2005, they signed a record deal with Paradigm Records. This deal came to light when an A&R in the states watched the Nubian Soljaz performed at a Hamalegi show which is available on DVD.
The deal helped them to direct joint efforts towards gainful ventures in their "rebellious age".
Over the years, Sir X has excelled on building good working relationship with both local and internationally well-known artistes like Res K P, Allien Zik, Cannabass, and Mame Bala.
He has also performed in many festivals in Senegal and has participated in different projects like the DK-BJL compilation, Nun Ak Yen compilation (Senegal), Dream Your Future Drama soundtrack or album, Buga Dem (anti-illegal migration campaign), and Jambarr (Scorpion U-17).
Also, he widely featured on various Gambian artistes' songs or music projects - most notably with the respectable hip-hop crew Poetic X, Hot B, Omid Wisdom, Killa Ace, Maaw Gee, Smoke Doctah, Baba Blood, Grandiz Kroo among others.
In late 2012, he was awarded a scholarship at Mandingmorry Academy of Music (MAM) to undergo a twelve-month professional training to help add more feathers to his professional hat.
His artistic expressions are overwhelmingly resourceful to the growing youthful population, especially the hip-hop community craving for his efforts.
He is working tirelessly on his mix-tape to be launched in June 2013.
He still leans his back on the community-based hip-hop body, the "BC Movement" - formerly "Nubian Soljaz" and "Hip Hop Headz" - which comprises artists, producers, artist managers, event promoters, and writers.
Read Other Articles In Article (Archive)