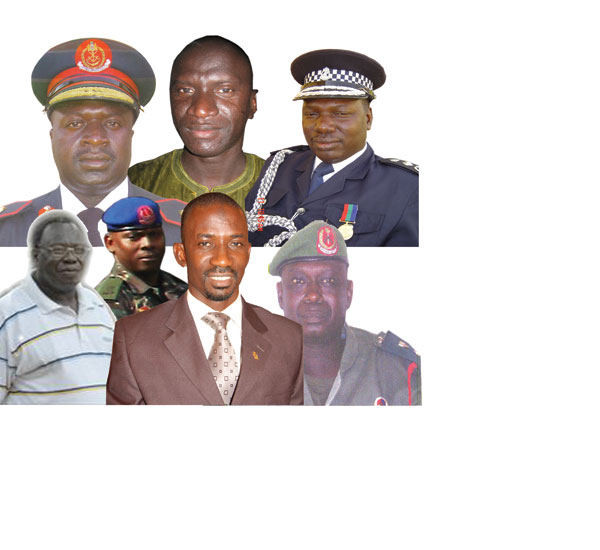 A five-member panel of judges of the Supreme Court of The Gambia Friday dismissed the appeal filed by the jailed former chief of defence staff of the Gambia armed forces, Lt General Lang Tombong Tamba, and six others.
The dismissal of the appeal by the Supreme Court followed that of the Gambia Court of Appeal, whose three-member panel of judges in April 2011 dismissed their appeal.
The other appellants are Brigadier General Omar Bun Mbye, former director of operations and training at GAF, Col. Lamin Bo Badjie, former chief of the NIA, Modou Gaye, former deputy IGP, Gibril Ngorr Secka, former deputy Gambian ambassador to Guinea Bissau, Lt. Col. Kawsu Camara alias Bombardier former commander of Kanilai Camp and Abdoulie Joof a businessman.
It would be recalled that the appellants were sentenced to death by the High Court in Banjul on treason charges on 15 July 2010.
The indictment stated that the accused persons between January and December 2009 procured arms, ammunition, equipment and mercenaries from Guinea Conakry and other places to stage a coup and overthrow the democratically-elected government of The Gambia.
Reading the Supreme Court's judgment on behalf of the five-member panel of judges, Supreme Court Justice Raymond C. Sock stated that this was an appeal against the judgment of the Gambia Court of Appeal, delivered on 4 April 2011, which upheld the trial judge's conviction of the appellants of the offences of treason and conspiracy to commit treason.
Justice Sock said the facts leading to the appeal were sufficiently summarized in the statements of case of the appellants and the respondent, filed on 18 June 2012 and 16 July 2012 respectively.
In delivering the 18-page judgment, Justice Sock then went on to examine the issues raised, arguments of counsel, the evidence and the applicable law.
The judge consequently announced the conclusion to the Supreme Court's judgment, as endorsed by the panel of judges, as follows:
"In the light of the above consideration of the issues raised, the arguments of the counsel on both sides, the evidence and the applicable law, the appellants' appeal fails and is hereby dismissed".
Read Other Articles In Article (Archive)