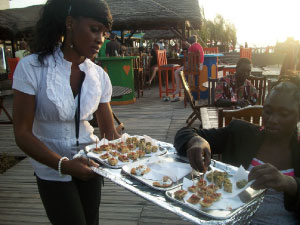 As it tune up for the just started tourist season, the SunSwing Beach Resort on Tuesday added a Tapas service to its well reputed Maddies Beach Bar, right onthe edge of the Atlantic Ocean.
Tapas is the latest in the ever-growing modernization and standardization of this Gambian managed hotel, formerly called Jarema.
Speaking shortly after unveiling this new addition to the Maddies, General Manager Momodou L Jobe said the beach bar is apart of his hotels' policy to open up to both Gambian and visiting tourists.
"'We believe in opening up access to the beach as opposed to sealing off our facilities from wider accessibility. One of the problems in The Gambia is that we believe too much in fencing off hotels, hindering direct access from the beach. This is common here, but in our strategy we wish to put in place continuity for the visitor to explore the entire facilities from within the hotel straight to the beach,'' Mr Jobe said.
He said the new addition would provide variety, covering varied choices for the visitor wanting to sample African cuisine, or stick to international cuisines.
'A Tapas bar, though serves food, but is not for a really very hungry person, but one who wants to take snacks,'' he said.
Mr Jobe said SunSwings "has a policy to allow free interaction between all people, indigenes and visitors alike, of course in a harassment-free environment. We are privileged here that unlike some other areas along the beach, we are still blessed with a water front still very much intact, surviving the erosion,'' he said.
Jobe said the new bar alongside other developments at SunSwing are part of efforts to contribute and maintain high standards in tourism, as envisaged and guided by Minister Fatou Mass Jobe who has made good standards a top priority.
Asked to comment on the new outlook of management of the hotel, since its transfer on lease from Libyan investors, Mr Jobe reported with delight that SunSwing is perhaps one of the few hotels, if not the only one, which is managed entirely by Gambians.
"Yes, we get experts come in from time to time to train our people, but everyone else is Gambian including even our chefs"', he announced.
Read Other Articles In Article (Archive)