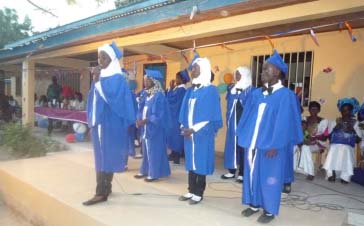 Sukuta Wansee Basic Cycle School on Saturday held graduation ceremony for its first batch of grade nine students at the school grounds in Sukuta.
The principal of the school, Sambou Kanteh, said the year 2015 is special for the school because of the graduation of the school's first batch of its grade nine students.
Mr Kanteh said out of 17 grade nine graduates, 11 were the first batch of the school when it started as a lower basic in 2006.
He said Sukuta Wansee Basic Cycle School has witnessed rapid growth in student population and has made progress in infrastructural development from 2006 to 2015.
"All the buildings except three classrooms were built within this period," Mr Kanteh said."Wansee in 2006 and Wansee today are quite different; in the 2006/2007 academic year, the school registered only 11 students in grade one.Today, the school has more than 50 students booking for spot in grade one for the next academic year."
The principal said the school did not only provide "quality and affordable education" for the students, it also gives them "excellent food" through the feeding programme as well as provides medical care to students.
He said that in 2014, the school spent D64,965 on medical bill at ASB Clinic in Dippakunda, and D182,335 on free daily breakfast.
The principal said the school has plans to start French lesson from nursery one to grade nine starting from September 2015.Presently, the French teacher at the school is covering grade four to nine.
Mr Kanteh thanked Sheikh Abdou Karim Jatta and the Jatta Kunda family of Sukuta for allocating a plot of land for the construction of the school.
Read Other Articles In Article (Archive)