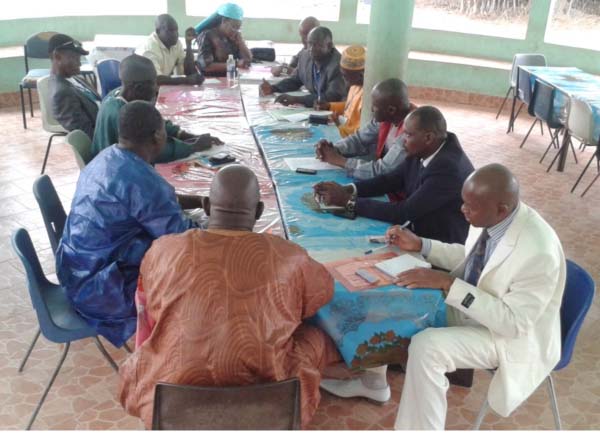 The Governors' Forum and Mayors' Networking held on 26 December 2015 at Basse have come up with resolutions which focus on reflection on the funding and institutionalisation of Safra.
The joint meeting of the networks of governors and mayors at the 26th edition of Safra took place at the residence of the Governor of Upper River Region Alhagie Omar Sompo Ceesay.
The authorities involved in the meeting were: Alhagie Omar Sompo Ceesay (governor of URR, Gambia); Jahara K.S Juwara (chairman, Basse Area Council, Gambia); Guinea Conakry BOKE; Mamadoi Boi Djalo (governor of Gabou, Guinea Bissau); Hadramy Ould Wedad (mayor of Sélibaby, Mauritania representative of governor); Issa Kanoute (forth deputy mayor of Kayes, Mali and representative of governor); Oumou Diallo (second deputy mayor of Tambacounda, Sénégal) and Mamadou Barro and Abdoulaye Niassa (members of Safra bureau of coordination).
Below we reproduce the full text of the resolutions:
The work focused on a single point: The reflection on the funding and institutionalisation of Safra.
NETWORKS OF GOVERNORS AND MAYORS:
• Considering that Safra over the years has become a privileged instrument for cooperation with the basis for sub-regional integration of peoples in the Ecowas
• Whereas, despite its initiatives for peace, security, integration and development in the border area, Safra still faces many challenges on its financing, its institutionalisation and empowerment
NETWORKS OF GOVERNORS AND MAYORS
1. Agreed to support the financing of the activities and operation of Safra as part of municipal, regional and national budgets
2. Invite the governors and mayors present at Basse to take this will to national decision makers
3. Invite the authorities present at Basse to do lobbying for Safra with our accredited parliamentarian to Ecowas
4. Invite the local committees to put together the different resolutions from the Tamba Counda planning meeting and that of Bassé to our respective head of states
5. Empower Senegal to serve as a focal point in order to expedite the decision of mayors' network in the Tamba Counda programming meeting in late October and early November 2015 to have an audience with the President of the Republic of Senegal H.E. Maky Sall, chairman of Ecowas latest the second quarter of 2016
6. Agreed to start up a commission consisting of the Governor of Tamba Counda, the Mayor of Tamba Counda, the mayors of six (6) member cities, the president of the AF / Safra, President of the Scientific Committee and one or two members of the coordination office
7. Decided on the translation of resolutions in different official languages (English - Portuguese) for more adaptation and dissemination of decisions
Networks of Governors and Mayors thanked administrative and political authorities for their availability at Basse, the Governor Upper River Region Omar Sompo Ceesay, the Chairman of Basse Area Council Jahara K.S Juwara and the local organising committee of Safra.
SIGNED BY:
GOVERNORS OR THEIR REPRESENTATIVES
BASSE/ GAMBIA-Alhagie Omar Sompo Ceesay
GABU/ GUINEA BISSAU-Dr Mamadou Boi Diallo
BOKE/ GUINEA CONAKRY-El Hadji Baba Drame
MAYORS AND THEIR ASSISTANTS
SELIBABY/R. I. MAURITANIA-Hadramy Ould Wedad
BASSE/ GAMBIA-Jahara K.S Juwara
KAYES / MALI-Issa Kanoute
TAMBACOUNDA/ SENEGAL - Oumou Diallo
BOKE/ GUINEA KONAKRY -Modibo Fofana
GABU / GUINEA BISSAU -Aladje Bobo Cisse
Read Other Articles In Article (Archive)