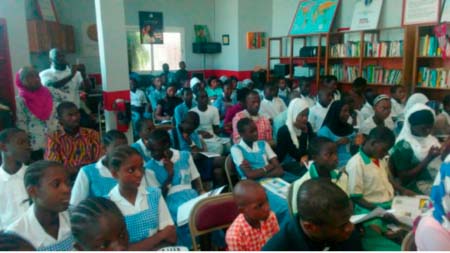 The Youth Consortium Progressive Network (YCP) Wednesday sensitised students and young people on illicit-drugs and their impact on human life and the society.

The day's sensitization forum, held at the American Corner on Kairaba Avenue, brought together about 100 students from different junior schools within the Kanifing Municipality, and also young people from diverse youth organisations.
YCP is a registered non-profit youth organisation out to empower Gambians and African youths to pursue their dreams, through the provision of courses on career counselling, entrepreneurship training and the development of writing skills.
It is also aimed at promoting the attitudes of hard work, dignity of labour and integrity among youths, and to provide avenues for youths to express themselves, learn from one another about the major issues impacting societies, articulate the challenges and address constraints to peace and development in The Gambia.
The occasion was also attended by representatives from the Drug Law Enforcement Agency, including the public relations officer, Ousman Saidy Bah, and members of the health sector.
According to the organisers, the annual event started since 2010 to sensitise youths and students on the dangers of illicit drugs.
In his opening statement, Baboucarr A. Baldeh said that YCP is a youth-led non-profit organisation established in 2010.
"Since 2010, we have been holding symposia in schools, panel discussions and the reason is to give leadership training and entrepreneurship skills and guidance to the young."
He said his organisation considered that youths should be guided not to get involved in this dangerous menace in order to have a good career for a better future.
"The programme is mainly to involve young people from different organisations and schools to discuss the dangers of the use and trafficking of Illicit-drugs," he remarked.
He also urged participants to make good use of the sessions so that they could learn more, and disseminate the information to their colleagues.
Tamsir Jallow, president of the Junior Education Service, pointed out the dangers of drug abuse to the health and lives of young people.
He said youths and children are the cream of the society and future leaders of the country; therefore, it is important to safeguard their welfare.
"Drugs are harmful to our health, and young people are more vulnerable to illicit-drug use," he stated.
He said young people are involved in illicit-drug abuse because of various reasons, such as curiosity, peer influence, among many other things.
"The most common thing drugs cause in our society is making people mad, and this madness causes greater harm to our society."
YCP, in collaboration with partners, including the Drug Law Enforcement Agency of The Gambia (DLEAG), has been sensitising the children, youths and communities on the effects of illicit drugs in society through workshops, symposia, radio talk shows, and annual International Drug Day celebration in order to complement DLEAG's efforts at creating a drug-free environment.
Read Other Articles In Article (Archive)