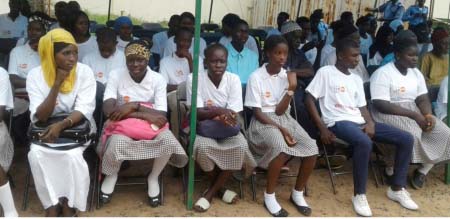 Stratford College of Management in collaboration with the SOS Mother and Adult Training Centre observed the International Social Work Day at the American Corner, on 21 March 2017.

Omar Colley, a student of Stratford College, in his opening remarks, said the observance of International Social Work Day on the theme: "Promoting community and environmental sustainability" was to introduce the importance of social work in The Gambia for greater impact in national development.
Speaking on the objectives of World Social Work Day, Idika Kalu Idika said the observance of this day was launched in 1983 by the International Social Work committee, and observed every third Tuesday of March every year.
"It's a critical relevance in society that completes the work of nurses, physiologist, therapists and lot more."
Health facilities and primary education should employ social workers to advice and help their clients, he said.
He added that their work is to deal with the physiological and emotional issues of people suffering either from mental, emotional, health and social well-being problems.
Moreover, he continued, the objective of this day was to send a message to the community and the government to add more light on their contribution in the well-being of society.
He also tasked the government and institutions to broaden their research place to meet the international level on the needs of people.
Mrs. Karen Sonko said mental illness is a physical disorder and is treated by a mental health worker.
"It is the responsibility of the social workers to accomplish their work in improving client's health; it is their responsibility to create awareness on how society sees and feels about this people."
Mrs Sonko said the first line of experts are the health workers, families and then social workers to accomplish their work in making an impact on their clients.
Most challenges they face include stigma, especially family and religious belief; therefore, their role is to educate, empower and change the mindset of people.
To motivate their clients, their weakness and strength should be assessed, she said.
She further advised students and social workers to know their role and responsibility to have an impact in society, and that their profession is not to dictate, but respect the opinion of their clients.
Health workers and the private sector are their partners to reduce stigma and the approach towards mental and sick people, she added.
Lloyd London Drakes, who spoke on HIV and AIDS support and counseling in the community, said stigma is their main challenge.
More research should be done on HIV to help social workers have sustainable achievements in helping the people living with the sickness.
The Director of Social Welfare, Fanta Bai Secka, said the basics of social work and civic education are been taught in schools to make an impact in their community.
Poverty is the main issue that contributes in mental instability, HIV and AIDs, and their aim for now is to eradicate and minimise the challenge face by society, and also promote social work.
"Workers and students should have the passion and motivation that they are safeguards that put a smile on people's faces."
Read Other Articles In Article (Archive)