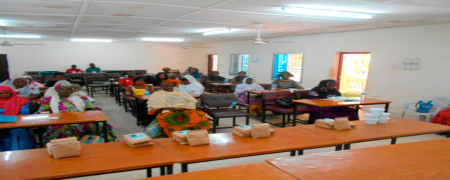 At least 20 food processors drawn from various enterprises and private businesses recently concluded a five-day refresher training course on formulating complementary foods.

The course was organised by the food technology service under the department of Agriculture, and funded by P2RS Project NEMA, Abuko.
Speaking at the end of the training course held at the WellIingara Model Horticulture Centre, Seedy Fofana, head of the Food Technology Services department of Agriculture and also a food scientist, said the training course was meant for local food processors and local entrepreneurs, who are dealing with food processing in the country.
It focused in formulating complementary foods, as the bulky of the raw materials come from cereals and legumes.
Funded by Nema, the project seeks to address the issues of complementary food, quality and safety food.
He said during the five-day training session topics covered included complementary food guidelines, which is very important and they deemed it fitting to cover that area.
Food quality and safety was also covered, as well as raw materials, packaging and hygiene, he said, adding that they do not compromise with food hygiene.
According to Mr Fofana, some of them attended a series on this nature of training, but still need refresher training.
Most of them are engaged in this type of business; that was why it was easy for some of them to capture most of the topics treated.
Mr Fofana also dilated on the significance attached to the training course, which would greatly improve their knowledge in their daily business.
One of their objectives is always to improve the capacity of the food processors to better manage themselves and their businesses at their level.
Mr Fofana also described the training course as very interactive, educative and important, as it was a participatory forum.
The forum was an open discussion, but not an academic lecture, and he urged them to take the opportunity to clear their doubts.
The objective is to eradicate malnutrition among infants and use the locally produced foods which do not cost anything.
The raw materials are locally made and available in the country, he continued, adding that most of them have milling machines, but some of them need processing equipment to operate in their business.
Ebrima Bah, the GHE participant, said they need more of this training course in the future, adding that the topics covered how to make baby foods in different products.
Read Other Articles In Article (Archive)