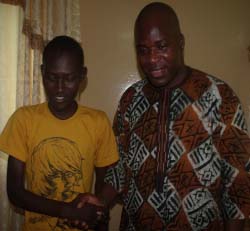 Baboucarr Chatty, a teenage sensation who plays his football with Steve Biko's youthful team and Gilkock Academy of Brufut yesterday paid a courtesy call on the Minister of Youth and Sports, Sheriff Gomez, in his office in Banjul.
The visit was in appreciation of the Minister's gesture of facilitating the overseas treatment of the youngster, Chatty, whose football career was interrupted by a career threatening heart disease.
The 14-year-old youngster was few months ago flown to Delhi, India, where he underwent a successful operation on his heart thanks to the initiative of Hon. Sheriff Gomez.
Chatty has since returned home after a successful surgical operation was done on him.
It is against this backdrop that the promising Chatty, accompanied by his mother, visited the youth and sports minister to say a big thank you for what they described as the minister's benevolent gesture in saving the life of a footballer who has all it takes to become a potential figure.
"I have no other way to describe how appreciative I am of the minister for this big support because he is the inspirational figure behind my treatment; so it will be unfair if I fail to thank him for the gesture," says Chatty, who went further to thank all those who contributed in one way or the other to ensure the overseas treatment was successful.
The youth and sports minister, in his response, said he was very much appreciative of Chatty's show of gratitude.
He used the occasion to shower praises on the Gambian leader, President Jammeh, for what he referred to as his immense contribution and commitment in the process.
Minister Gomez, who appealed to members of the private sector to take up similar initiative, commended the Indian treatment company for a successful operation on the Gambian teenager and wished him the best of luck in his football career.
Kemo Ceesay, treasurer of the Gambia Football Association, who also serves as chief executive officer of Steve Biko Football Club, thanked everyone that has helped in facilitating the treatment.
Ceesay reserved special thanks and appreciation for Sheriff Gomez for what he called his invaluable role in ensuring the treatment was successful.
Read Other Articles In Article (Archive)