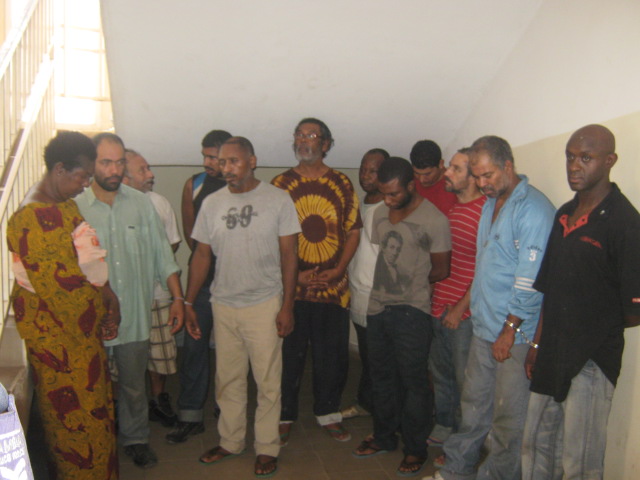 The state has now taken over the trial of the 12 foreigners arrested recently in connection with the seizure of tonnes of illicit drug cocaine found in The Gambia.
The suspects were arraigned by prosecutors of the National Drug Enforcement Agency (NDEA) before the narcotics court of the Banjul Magistrates' Court.
They face three counts: conspiracy to commit an offence; dealing in prohibited drugs for the purpose of supply by retail or wholesale, and the transport and or transfer; and possession of prohibited drugs for the purpose of drug trafficking.
When the case was called yesterday, state counsel NB Jones rose and told the court that the Attorney-General's Chambers is taking over the case from the NDEA.
Ms. Jones further told the court that the AG Chambers has received the case file, but needed sometime to enable them consider proper legal opinion or charges against the accused persons. She, therefore, asked for an adjournment.
Defence counsel Chime, who is representing the 1st 2nd, 3rd and 4th accused persons, then told the court that at the last adjournment date, the defence was made to understand that the issue of legal opinion would not come up again.
He said the defence is not opposed to the adjournment application, but fears if the case would proceed come the next adjournment date.
He further noted that the accused persons are languishing in detention at the Mile 2 state central prison, without the case proceeding.
Constitutionally, the accused persons should enjoy certain privileges, which they are not enjoying at the moment, he added.
The counsel asserted that on the last adjourned date, the defence made an application for the accused persons to enjoy certain privileges. The court was told that the accused persons are not enjoying any of those privileges.
The defence counsel said accused persons are presumed innocent until proven guilty by a court of law.
The court was again told that the accused persons have not been given access to their family members or friends. "Some of them may be even sick, who knows?" Lawyer Chime declared.
He said the state should give the defense strong assurance that, come next adjournment date, the issue of legal opinion would be over, for the case to progress.
Lawyer L.S Camara, who is representing the rest of the accused persons, told the court that he was associating himself with the submission made by his colleague, Lawyer Chime.
He also emphasised that the state must have to give assurance to the defence that the case would proceed.
"Today marks 28 days, and the case didn't proceed even for a single day," he stated.
The trial magistrate then ruled that the issue of the accused persons' access to their family and friends is at the discretion of prison authorities. He said the prison authority has been a long-time institution, which operates in accordance with the prison rules and regulations.
Magistrate Hilary U Abeke then adjourned the case to 15th July 2010 for mention.
Read Other Articles In Article (Archive)