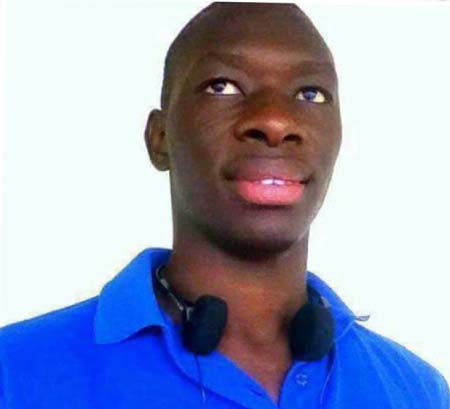 Fatou A. Drammeh, a protocol officer at the Office of the President, yesterday testified as the second prosecution witness (PW2) in the trial involving Alagie Abdoulie Ceesay, managing director of Teranga FM radio.
Ceesay was charged with seven-counts of sedition and publishing false news before Justice Mohammed Dan Azumi Balarabe of Banjul High Court.
In her testimony, Fatou A. Drammeh told the court that she is a protocol officer at the Office of the President.
She said she knew the accused through one Zineb Koneh, who is her colleague and friend, adding that she and the accused shared contacts and few days later the accused called her and told her that he was travelling to America.
She wished the accused luck, and the accused promised to call her back because he wanted her to reconcile him with her friend, Zineb Koneh.
She said at the time she was meeting the accused, he was in a relationship with her friend.
Two to three years later, the accused called her with a New York number and they started chatting via WhatsApp.
She told the accused that the only thing that could make her talk to her friend was for the accused to be realistic.
She further adduced that in about two to three weeks' time, the accused called her with an Africell number and she sent the accused a text, asking "who are you" and the accused replied: "it is me, Alagie".
She asked the accused what happened because he was back so soon, and whether he had been deported, adding that the accused told her that he was not deported and she told the accused that he was not telling the truth.
The accused told her that he is an American citizen, and that he wanted them to meet somewhere and he would show her his passport.
However, she told the accused that he could not meet him, but he could send her the passport via WhatsApp, she told the court.
"When I realised that he is not willing to do that, I told him to stop sending me messages, and that I do not want to communicate with him anymore," the protocol officer further told the court.
"I stored his name as Alagie, until a day before Tobaski then I changed his name to "Ala Fuck U". That was because he sent me two messages of President Jammeh with some wordings telling us to stay at home on July 22nd that the sniper was ready to kick off the dog," she said.
Defence counsel Gaye-Coker objected to that on the grounds that the witness could not go into the content of an exhibit that the prosecution had not yet tendered before the court.
In response, the DPP said counsel was misconceiving the idea of an ordinary document to a real document, and urged the court to dismiss the objection.
However, in his ruling, the trial judge sustained the defence counsel's objection.
Continuing her testimony, Miss Drammeh said the messages were sent through WhatsApp and the name of the sender is "Ala Fuck U".
She said her phone is marked Iphone 5, and she had been using it for all her communications.
It was shown to her in court and she identified it, and the DPP applied to tender it in court. It was tendered in court and marked in evidence as an exhibit.
She said the messages were sent on Thursday 16 July 2014.
"At 3:43pm, a picture of President Jammeh and a gun with bullets pointed at him was sent to me by the accused with a heading "Sniper 15," she told the court.
She said it reads: "The sniper is hereby advises all citizens and non citizens to stay at their homes on Wednesday 22nd July 2015, as our struggle to kick off the dog begins that very day. We are capable of doing anything and it might start at July 22nd grounds. Please stay at your home for your safety. Signed by sniper secretary to the group."
"I sent him a message "hey who da Fuck is this. Who da hell are you." I sent him this because I wanted to know why he sent me this message, and I was shocked that he could do something like that."
She said the accused sent him a message, and it read: "I am sorry about those pictures. I was not sending it to you. I am disappointed by the words you used on me; that was the least I expected from a lady like you, especially between me and you."
"I am sure that am older than you, but I have given you all due respect. If I offended you by mistakenly sending that to your phone, I am sorry for that, because it is your phone.
"We barely know each other," she further told the court.
"I am nobody to tell you what to do with your life, but no matter what you do in life try to put humanity first, you will not regret it. By the way, I am not interested a bit about what you see on that picture," she added.
"I am not a politician, revolutionist or a journalist. I already have a career and a job that I am working on and I am content with that. You should have more aims and objectives than what you saw on that picture. I am still saying sorry because I offended you," she continued.
The DPP then applied for the content of the conversation between the accused and the witness via WhatsApp to be transcribed, and each would have a copy.
However, counsel Gaye-Coker said it is an exhibit in the custody of the court and it belongs to the court until the conclusion of the trial.
"We are talking about issues of authenticity to guarantee the continuous authenticity of whatever information is in that phone. The telephone must remain in the court's custody.
"The defence will be using it to cross-examine the witness as to the content of it and other matters," counsel said.
She said the procedure of producing evidence from electronic sources is well governed and regulated in the Evidence Act under section 22.
It was her submission that the DPP's application lacks merit; it is unknown and a very strange procedure in court which DPP was encouraging, counsel said.
The trial judge then ruled that both counsel could apply for the content of the phone to be transcribed based on what is in the phone.
Hearing continues on Wednesday at 2pm.
Read Other Articles In Article (Archive)