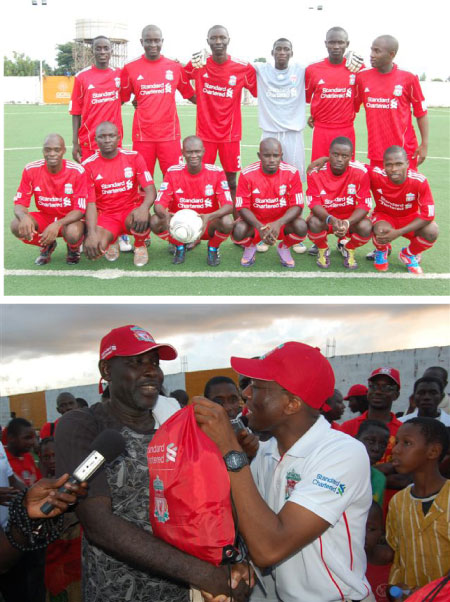 In an effort to enhance its reputation as a bank that is here for good, and to also leverage on its Liverpool sponsorship, Standard Chartered has gone a notch higher by hosting a football game between its football team and the Gambia LFC Fan Club at the Manjai football field.
The engagement, which took place on Saturday 29 September 2012, attracted an impressive number of people from across all walks of life, including staff, family and fans from the community.
Speaking ahead of the game, Humphrey Mukwereza, Chief Executive of Standard Chartered Gambia said:
"What we are about to witness this evening is an extension of our great relationship with Liverpool; today we have the Gambia Liverpool Fans Club and the Standard Chartered football team ready to demonstrate just what this synergy stands for on the football field.
"This is also a chance to leverage on this sponsorship in The Gambia for the Bank and exhibit the very essence of what we stand for – which is to be Here for Good".
When the game eventually got underway, it was the Standard Chartered team that declared an earlier intention; exhibiting some breath-taking display of talent and sheer energy.
Leading by two goals to one, the bank's midfielder Omar M'bai embarked on a brilliant individual effort to increase the goal tally to 3-1; a situation which seemed like a deserved end to a memorable evening.
However, the Gambia LFC fans club will remain unperturbed. Combining experience and fluidity, they took advantage of some lackluster marking by Standard Chartered to level the scores at 3-3 at the end of regulation time.
It was a befitting end to an exciting evening, and as Liverpool Ambassador, Lamin Jammeh, put it, when he was delivering the final remarks; "this is just a foretaste of the many engagements we will have between these two organizations".
The occasion also witnessed an awards ceremony to recognise old and committed Liverpool supporters; who have held on to the wings of the club over the years through good and bad times.
It will be recalled that the bank entered into a four-year sponsorship deal with English Premiership Club Liverpool in 2010 to, among other things, help strengthen the bank's competitive advantage in the right markets and to also ensure a good return on investment. Currently, both organizations are beginning to experience great benefits since the conclusion of the deal.
Read Other Articles In Article (Archive)