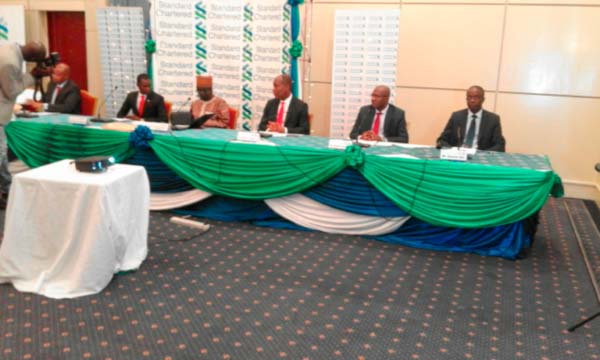 Standard Chartered Bank Gambia recently held its Annual General Meeting (AGM) at the Kairaba Beach Hotel.

Delivering the chairman's report, the bank's board chairman, Momodou B.A. Senghore, said 2015 was a challenging year for the local economy following a series of exogenous shocks in the tourism and agriculture sectors.
The impact of these factors, coupled with significantly lower volume of foreign currency transactions within the banking industry, was reflected in their performance during this year, he said.
However, he added, they maintained their strategic focus on the basics of banking and in a very challenging period delivered a creditable result.
The bank's profit before tax was GMD103 million, operation was GMD 518 million and income earned was 32 bututs, he declared.
"We are recommending a dividend of 24 bututs per share after making adjustment for statutory reserve," he further announced.
"Despite a subdued global economy resulting from continued damping of commodity price and slowdown in the Chinese economy, our outlook for 2016 in domestic market is optimistic.
"We are expecting that the recovery in the tourism sector and improved agriculture output will drive economic growth in 2016," board chairman Senghore went on.
Mr Senghore added: "In spite of challenging market conditions, I believe we remain in excellent shape to support our clients, and the growth opportunities for the business remain compelling. We also continued to embody what it means to be here for good.
"We are taking steps to secure the foundation of our bank by re-focusing our corporate and institution banking business towards delivering higher return by optimizing the use of capital.
"Our leaner organization structure has made us well-positioned to take advantage of the domestic economic growth opportunities expected in 2018."
According to chairman Senghore, in 2015 Standard Chartered Bank as a group announced a refreshed strategy designed to make the bank more resilient to external shocks, and was able to deliver better and more sustainable results.
"Our bank is today with a more liquid balance sheet than before," he continued
"As the Group strengthens its focus on Africa as a powerhouse region, we are well-positioned to benefit from increased investments in our regions, people and systems," he said.
Also speaking on the occasion, the bank's Chief Executive Officer, Albert Saltson, said despite a challenging external environment, the bank continued to invest in improving operations for future growth.
"In 2015, we successfully enabled all of the bank's ATMs to accept transactions from MasterCard cardholders. This was a significant achievement for the bank, making us one of the first banks to offer these services in the local market," CEO Salton said.
Similarly, he added, the bank invested to upgrade five of their existing ATMs with newer, modern models capable of delivering cash disbursement at a fraction of the speed of older models.
The ATM replacement project is due for completion in early 2016, he announced.
According to the CEO, the bank further invested in expanding their digital footprint by introducing the straight 2Bank transaction initiation platform, capable of delivering an end digital transaction processing service to corporate and institutional banking clients.
He said the first of its kind in The Gambia, strength 2Bank has been piloted with a small group of clients who have already seen a significant improvement in quality of service delivered.
As the platform is rolled out to more clients in 2016, these benefits will be felt more broadly by all clients within the corporate and institutional banking segment.
On building a bank of the future, the SCB CEO said the bank had made significant strides towards reducing and simplifying their processes, while at the same time investing in digital services.
"We are confident that we have the right mix to deliver revenue and performance into the future.
"As we look forward to 2016 and beyond, we are well-positioned to achieve our strategic priorities, as we secure the foundation of our bank by ensuring we do business the right way, with the right clients to deliver better value for our stakeholders."

Source: www.independent.ie

Read Other Articles In Article (Archive)