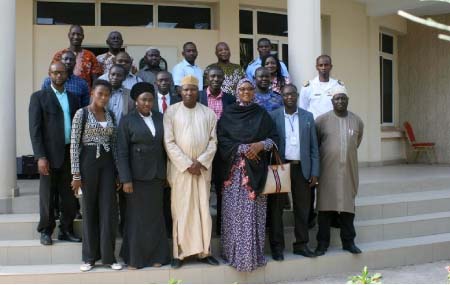 The ministry of Works, Transport and Infrastructure in collaboration with Gambia Maritime Administration (GMA) and other state agencies on Monday validated the Gambia Integrated Maritime Sector Strategy (GIMSS) document at National Nutrition Agency (NaNA) conference hall.

The draft document has five thematic areas- maritime governance, maritime safety and security, marine environment protection, Maritime Economic, Maritime Research and Awareness.
Its strategic objective is to strengthen maritime governance including all legal and policy requirements, functions, organisational structure and the associated mechanism that enables the implementation of the strategy.
It will also help to develop efficient and responsible maritime resource management such as effective and adequate control mechanisms currently employed.
Deputy Permanent Secretary of the ministry of Works, Transport and Infrastructure, Malang K Jammeh described the document as significant.
"GIMSS has been in its draft form for a long time and now seeks your final input to translate it into its final version for implementation," he said.
He added: "The GIMSS is a cross- cutting maritime policy document designed to ensure a better governance of The Gambia's maritime space through an integrated approach."
However, he said this approach seeks the involvement of all stakeholders of allied activities with the maritime sector.
The technocrat said The Gambia is a signatory to many international maritime conventions and regional treaties, many of which he said encouraged or required signatory countries to maritime strategies.
"In fact African Union's Africa Maritime Transport Charter requires its member states to implement the provisions of the Africa Integrated Maritime Strategy (AIMS) 2050, and this draft GIMSS document is a reflection of our future aspiration in line with AIMS- 2050."
He commended all institutions that are working collectively to validate the strategic document while implored their work to expectation so as to produce proper documents for the maritime sector.
Director General for Gambia Maritime Administration, Karamo B Janneh, described the present of stakeholders to the validation workshop as a clear manifestation of their commitment to national development.
Read Other Articles In Article (Archive)