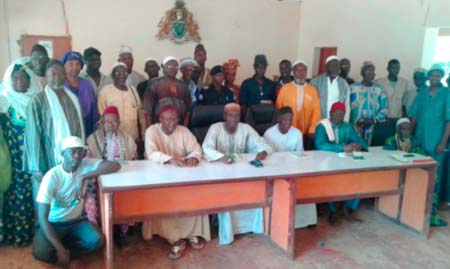 The president of the National Livestock Owners Association, Ebrima O. Jallow, has underscored the need for district and regional authorities to support the association in providing easy access to grazing area for cattle as enshrined in the animals welfare Act.

Ebrima O. Jallow called for this support on Monday in Kerewan North Bank region at a consultative meeting with stakeholders of livestock subsector on the theme: "Reduction of conflict among livestock and crop farmers."
He said the community outreach program aims at sensitizing authorities to support the identification of cattle tracks, with the ultimate objective of building peace between cattle farmers and crop farmers.
He noted that the encroachment of cattle tracks by crop farmers resulted in conflict which eventually led to exorbitant charges by district authorities.
Jallow said there was need for stakeholders to respect the designated cattle tracks to facilitate movement of livestock to grazing areas without destroying crops on the farms.
He thanked the government for their support to the association in promoting livestock, noting that cattle contribute immensely to the development of the economy.
The president commended NeMa project for supporting the outreach campaign, saying the forum would help stakeholders to strategize and embrace rethinking on how to effectively address problems between cattle and crop farmers in the region.
He challenged the district structures to work with chiefs to organise district meetings to create more awareness on the need for all to understand the role of the association in preserving designated cattle tracks.
Governor Ebrima KS Dampha lauded the association for the initiatives, noting that it would complement government's efforts in strengthening peace and national reconciliation.
He noted that government attached great importance in strengthening traditional administration to enhance sustainable peace and reminded district chiefs to be neutral in politics and uphold to fair dispensation of justice among people.
Alh. Dembo Santang Bojang, Adviser to National Livestock Owners Association called on the regional authorities to be vigilant in safeguarding available land, to pave the way for animal grazing and ameliorate the effects of conflicts among farmers.
He expressed the need for chiefs to embrace the use of Alternative Dispute Resolution Services to enhance peaceful solution to conflict.
Aji Mai Bojang echoed similar sentiments and called on women gardeners to seek support from agriculture on fencing and water facilities to address cattle intrusion in to gardens.
Ebrima Bah, the president of NBR Livestock Farmers Association, noted that the meeting would help to address the perennial problem.
He called on gardeners to provide durable fencing to prevent cattle entering during the dry season.
Chief Ebrima Ansu Tamba Jammeh of Upper Baddibou, said there was need for Gambia Livestock Marketing Agency to sensitize cattle farmers on payment of cattle tax and its benefits as farmers are in doubt as to where to pay cattle tax and on time.
Chief Alagie Jagne of Central Baddibou, Fabala Fadia Kinteh of Lower Badibou, Saite Gaye of Sabach Sanjal and Fabakary Nana Sonko of Lower Nuimi, all assured of their unflinching support to maintaining peace between cattle and crop farmers.
Read Other Articles In Article (Archive)